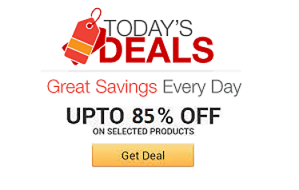 Find the coolest stuff at the lowest prices by browsing Amazon's incredible daily deals! You'll surely save a lot!
Keep your home - and the universe - free from evil by building your very own Voltron using this awesome LEGO set. With this 2,321 piece set you'll be able to construct the five mighty lions that join forces to form an imposing 15 inch tall LEGO Votron.
Recreate one of the world's most iconic architectural wonders by taking on this LEGO creator Taj Mahal set. You'll be able to marvel at the structural beauty of this iconic landmark up close as you painstakingly put together its almost 6,000 pieces!
Change the feel and appearance of any room on a whim using these modular light surface tiles. The simple square design allows you to set them up into countless different shapes - allowing you to create truly memorizing patterns.
Make family game night more appealing and fun for your Gen-Z offspring with Monopoly: Fortnite edition. With over 27 different character pieces to choose from, each player will get to build walls, pick up health packs, and damage opponents until only one victor remains.
This 360-degree car dashboard security camera captures everything happening, even when your car is parked and you're nowhere nearby! You'll know exactly what's going on at all times with video streaming directly to your smartphone for maximum convenience.
Take high-fiving to new heights when you slap some skin with these hands on your fingers. Each perfectly formed hand fits comfortably and creates the illusion your finger has a tiny hand growing at the end. Now every celebratory high-five will be 5x as pleasurable!
Increase the chances of finding u're intellectually pretentious counterpart, bye wearing this high brow grammer lover shirt. Its's the perfect gift four the grammer nazi's who become enraged at the site of emproper spelling, and grammetical errors.
Take a step towards helping Mother Earth by showering with this water saving mist shower head. This unique shower head atomizes streams of water into tiny droplets to achieve 10 times the surface area of a regular showerhead - using 70% less water!
Isn't it about time you paired your Apple with a Banana? This fully functional Bluetooth phone pairs with your smartphone and features a talk time of 10 hours so that you can make and take calls on-the-go using this wireless banana.