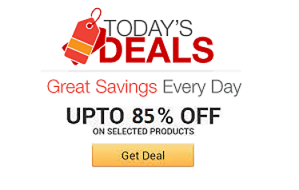 Find the coolest stuff at the lowest prices by browsing Amazon's incredible daily deals! You'll surely save a lot!
Learn to shred like the music gods in no time at all with the guitar learning system. This ingenious device goes over the guitar and shows you how to play ...
Put your coloring skills to the test by trying to complete a page from the intricate illustrations coloring book. Each page comes chock-full of impossibly ...
Put your artistic skills to the test by taking on the monumental task of completing the expert level coloring book. Each page comes illustrated with ...
This unofficially licensed Star Wars Kama Sutra book features all of your favorite Star Wars action figures in re-imagined sexual positions such as 'AT-AT ...
Breathe new life into vintage furniture by following the helpful tips inside 'The Furniture Bible' book. This informative read comes packed with everything ...
What's the difference between a tile and a plate? Why isn't it a good idea to stack bricks in columns to make a wall? How do you build a LEGO mosaic or build at different scales? You'll find the answers to these and other questions in The Unofficial LEGO Builder's Guide.Now in full color, this brand-new edition of a well-loved favorite will show you how to:–Construct models that won't fall apart–Choose the right pieces and substitute when needed–Build to micro, jumbo, and miniland scale–Make playable board games out of LEGO pieces–Create photo mosaics and curved sculptures–Build a miniature space shuttle, a minifig-sized train station, and moreOf course, the real fun of LEGO building lies in creating your own models—from choosing the subject to clicking that final brick into place. Learn how in The Unofficial LEGO Builder's Guide.Includes the Brickopedia, a visual dictionary of nearly 300 of the most commonly used LEGO elements!
Being hung like a horse is a curse few understand. Learn how to cope with your gargantuan gonzo with this helpful guide. It comes filled with prayers, daily ...
Enjoy great food while taking in the great outdoors by following the recipes in the Campfire Cuisine book. This handy book teaches you how to prepare ...
Enjoy swallowing a variety of cock everyday by receiving some helpful tips from the '50 Ways To Eat Cock' cookbook. This holy grail of culinary literature ...