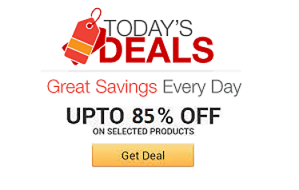 Find the coolest stuff at the lowest prices by browsing Amazon's incredible daily deals! You'll surely save a lot!
Churn out delicious frozen treats guaranteed to delight by using this old fashioned bucket ice cream maker. It comes with a heavy duty four quart aluminum ...
The recessed power outlets help accommodate modern flat screen TVs and other contemporary furniture better than standard outlets. They're designed with ...
Celebrate the holidays in true geek fashion with the Star Wars AT-AT snow globe sitting on your mantle. Don't just opt for a boring Santa or reindeer snow ...
Light up any room with these decorative pool ball lights. These pool ball lights come in every ball color, are made from solid wood, and are hand painted ...
Carry your things around with this cool Star Wars Chewbacca plush backpack, not only will you look like a stud, but you will also be quite warm while ...
The solar jar lamps are the hip and eco-friendly alternative to the regular lamps that create a colorful nighttime atmosphere in the backyard with the flick ...
Show off your love for Sanrio's famous feline with the Hello Kitty backpack. This adorable plush backpack is styled to look like an over-sized version of ...
Keep your kitty entertained by installing this multi level cat climber in your humble abode. The space saving design can easily be installed over any ...
When the power fails, the indestructible emergency light will ensure you're never left in the dark. Great for both civilian and military applications, this ...