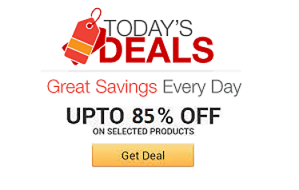 Find the coolest stuff at the lowest prices by browsing Amazon's incredible daily deals! You'll surely save a lot!
Help bring your home into the 21st century by installing the LCD door peephole. This high tech peephole utilizes a small LCD screen to let you clearly see ...
Add a real foosball table to your home without making it look like a total bachelor pad with this foosball coffee table. This furniture grade coffee table ...
Blow your friends away - literally - as you take aim and fire this incredibly entertaining air bazooka at them. This harmless weaponry features a high tech ...
Make breakfast fun for the kids by animating their breakfast using this bear pancake pan. The pan comes shaped like a cute little teddy bear so you'll get ...
The Corona neon light ensures that it's always Corona time in your man cave or in your dorm room. Need a retreat from the stresses of life, or the feeling ...
Score the most amazing goal of your life when playing a match with the giant soccer ball. Perfect for matching your larger than life game, this over-sized ...
Be ready to knock one back at a moment's notice like a true alcoholic by carrying along this collapsible beer glass. Whenever the opportunity to enjoy a ...
If stabbing your ex with knives isn't violent enough to satisfy your lust of everything knife related, this five finger knife holder will surely do the ...
Command the respect of your very own battalion when you enlist the LEGO Army men to aid in your make-believe adventures. Modeled after the soldiers from Toy ...