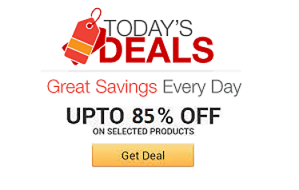 Find the coolest stuff at the lowest prices by browsing Amazon's incredible daily deals! You'll surely save a lot!
Get an astronomer's point of view of the night sky as you stare at its many star formations on the glowing constellations globe. This 2-in-1 globe displays ...
Go keyless in your household with this finger scanning door lock. Perfect for locking down your home with nearly impossible to crack security, this clever ...
In case of emergency, the emergency piggy bank probably won't help you that much but it will get you out of a small jam. It's modeled after a standard fire ...
Cry yourself to sleep in loving embrace of the full body pillow. It provides your tired back and legs with the physical support you need while providing ...
Sick of seeing the bloke from accounts squirming uncomfortably at his desk. Well, there'll be no need for Itchy Ian to fear those uncomfortable personal niggles when he has the executive ballscratcher at hand. He can just get in there and scratch. Shaped like a little metal hand on a stick, it's the best, most hygenic and socially acceptable way to subtley scratch that tickly spot in public. Presented in an elegant metal case, this is the ultimate for the high flyer who thinks he has it all. He'll wonder how he managed before you bought him this rummaging stick. It makes the perfect item for chaps with irritating itches. One size scratches all balls. Measures approximately 12.5 centimeter x 3 centimeter x 1 centimeter
With the folding Ray-Ban sunglasses you'll be able to stay stylish and protected from the blinding sun without over-encumbering your purse or pockets. It's ...
Give your overworked and mistreated hands some much needed love by applying this working hands cream on a regular basis. Its unique formula contains a high ...
The folding Wayfarer glasses make it remarkably easy to store your shades when they're not being worn. The classic Wayfarer plastic frame features ...
This over sized gear clock is a stylish work of art - made of various sized gears that will easily be a conversation starter in any home. The gear clock is ...