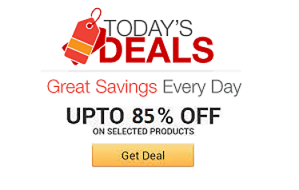 Find the coolest stuff at the lowest prices by browsing Amazon's incredible daily deals! You'll surely save a lot!
Now you can combine Halloween with Christmas and celebrate these joyous holidays for two months straight with this Nightmare Before Christmas lamp ...
Have a killer performance with this Friday The 13th guitar pick that will have your audience dying for more. Inspired by the iconic horror flick's ominous ...
Once the zombies rise up, things like the forearm ammo sleeve will become as vital to your survival as water. Great for hunting and shooting, the sleeve ...
Easily rid your home of creepy arachnids without using deadly force with this harm-free spider catcher. It efficiently allows you to trap spiders and other ...
Peel your favorite fruit like a total pro with the apple peeler machine. Virtually anyone can use this appliance; once the apple is mounted on top, the ...
Even those who are lactose intolerant will be able to enjoy a thick slice of Swiss cheese - as long as they use it to prop open the door. The Swiss cheese ...
Relax at the beach without carrying around a bulky lounger chair with these inflatable back pillows. Perfect for the outdoors where seating just isn't up to ...
Learn about the mechanics of perpetual motion by engineering your own masterpiece with the Rube Goldberg machine kit. After assembling all 602 pieces ...
Throw an amazing backyard party for children and / or drunken adults with these amazing bounce houses that feature a water slide on each side. These durable ...