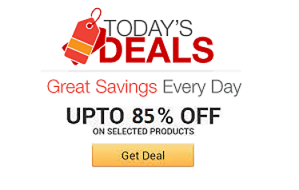 Find the coolest stuff at the lowest prices by browsing Amazon's incredible daily deals! You'll surely save a lot!
Travel over virtually any terrain just like a pet rodent in this human hamster ball. Built from a reinforced translucent material, the hamster ball lets you roll around safely inside of a bubble that provides a breathtaking view of the nauseating world around you.
Take the guesswork out of your next construction project with this smartphone assisted stud finder. Rather than having to rely on expensive tools, this attachment lets you see up to four inches through drywall and concrete to detect studs, wires, and pipes.
Class up your home bar by storing your favorite hooch inside this lovely antique ship whiskey decanter. Masterfully handcrafted by skilled artisans, the ship's large hollowed out hull makes the ideal vessel for your favorite spirits.
Decrease the risk of serious injury in the event of an accident while you're riding your bike by strapping on this motorcycle airbag vest before hitting the road. The vest provides a rigid neck brace in addition to firm support of the spine, back, chest, ribs and, kidneys.
These shirts protect against knives, blades, glass, & bites - reducing the risk of serious personal injury in the case of an attack or accident. The shirt has attained a Level 5 cut protection rating - 5X more slash-resistant than Kevlar.
Ensure your work area is properly illuminated when you're on the job by having this rotating clamping worklight by your side. The head rotates 360 degrees while pivoting 90 degrees so that you can direct the light to precisely where you need it.
Make yourself irresistible to all the Imperial loyalists you run into during the day by spritzing yourself with the Dark Side cologne. This out-of-this-world fragrance comes in an awesome 3.5 ounce bottle made to look like a miniature version of Lord Vader himself.
The folding yard wheelbarrow provides all the advantages of a traditional wheelbarrow while taking up a fraction of the space. It's equipped with a heavy duty vinyl coated nylon surface that allows you to quickly fold it for easy storage.
Keep a watchful eye over your humble abode 24/7 - no matter where you are - by outfitting your home the Ring smart home security system. It conveniently syncs to all your Ring doorbells and cameras so that you can monitor everything from your smartphone.