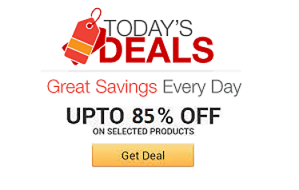 Find the coolest stuff at the lowest prices by browsing Amazon's incredible daily deals! You'll surely save a lot!
Enjoy old school arcade gaming on-the-go with the ultra portable NeoGeo mini retro arcade. This pint-sized arcade boasts everything from a joystick and buttons to a 3.5" screen and comes loaded with 40 classic games including Fatal Fury and Metal Slug.
Control your gluttonous and impulsive eating habits by storing your favorite foods inside of the time locking kitchen container. This one of a kind container features a programmable lid that locks itself for up to 10 days, and cannot be opened until the timer runs out.
Forget The Tortilla Challenge, if you really want to test your spice threshold then you need to try The Death Nut Challenge! To claim victory you have to chow down on 5 progressively hot extra large Virginia peanuts that are infused with some of the hottest peppers known to man.
Kill your insomnia once and for all by enjoying a nice deep sleep aided by these Bluetooth sleeping eye mask headphones. They provide true HD high fidelity sound so that you can comfortably drift off with a pleasant soundtrack.
Staying on top of your health will be more convenient than ever when you strap on the Fitbit Versa fitness smart watch. It effortlessly tracks all of your daily activity, your sleeping patterns, and connects to your smartphone so you can make calls and stream music.
Celebrate the greatness that is Ranch dressing with this holy grail of recipe books. It will teach you how to make Ranch from scratch as well as how to incorporate it into snacks, dips, grain bowls, salads, or even straight into your bloodstream!
Keep your scrimmage going after the field lights go off by playing your game with this light up glow basketball. This eye-catching regulation size basketball is equipped with an embedded LED that makes it give off a vibrant reddish glow.
These secret hidden flask mittens will help you battle the frigid cold in more ways than one. The left mitten comes with a concealed 4 ounce BPA-free refillable flask that you can fill up with your favorite spirit to remain warm and socially lubricated.
Celebrate the holidays Griswold style by placing this National Lampoon's Christmas vacation village on display. It depicts iconic and hilarious scenes from the beloved holiday flick such as Clark's electrocution and cousin Eddie emptying the shitter.