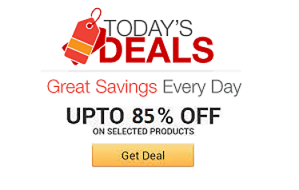 Find the coolest stuff at the lowest prices by browsing Amazon's incredible daily deals! You'll surely save a lot!
Easily tackle any minor task that jumps your way by carrying around this 11-in-1 compact multi-tool pocket knife. It features a slim compact design that won't create bulk and comes loaded with everything from a flathead and Phillips screwdriver to a can opener and a nail file.
Help transform your humble abode into a grisly haunted manor with this animated hanging corpse. Made to look like a horrifying decaying corpse, this ghoulish prop comes with glowing red eyes and lets out haunting screams as he shakes from side to side.
Enjoy the chips without the mess by using these finger covers for eating chips. These handy dishwasher safe covers are crafted from food-grade silicone and are designed to fit over your primary chip-eat-fingers - your thumb, middle, and index fingers.
Enjoy premium sound with the added bonus of voice control with the Amazon Alexa Echo Buds. They deliver crisp, dynamic sound along with Bose Active Noise Reduction Technology to limit background noise and enhance your auditory experience.
Ensure your shots have the best possible lighting by snapping them with the Canon Speedlite auto flash. This high-performance flash will automatically turn and shift in order to find the best possible direction for the flash to point towards.
Who has money for luxury services like high price "in Hospital" vasectomies? Keep it thrifty by performing this quick out-patient prodecure in the comfort and privacy of your home using this DIY Vasectomy Kit. Inside, you'll find everything you'll need to get snippin'.
With the semi-automatic power screw driver in your arsenal, you'll never again have to waste time looking for the right bit. It contains two bit cartridges that are pre-loaded with 12 bits, allowing you to effortlessly switch between them depending on the job.
Do sleepovers right by lounging out in style inside of this adult tiger sleeping bag. This comfy and creatively designed sleeping bag is made for people up to 78-inches tall and can conveniently be carried like a backpack for easy transport.
Expand your culinary horizons with a little treat from the sea by snacking on a bit of gourmet tinned octopus. This small low-calorie Portuguese octopus is high in B12 and comes marinated in a mix of garlic and olive oil to enhance its flavor profile.