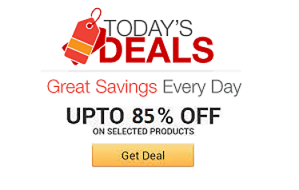 Find the coolest stuff at the lowest prices by browsing Amazon's incredible daily deals! You'll surely save a lot!
Give your roaring flames an other-worldly glow by dropping in a few of these flame color changing pine cones into the fire. These treated pine cones create incredibly stunning colored flames that will burn for roughly 15 minutes per pine cone.
This Alexa enabled Bose home speaker makes it more convenient than ever to fill your any room with incredible wall-to-wall sound. Now you'll be able to have millions of songs at the tip of your tongue thanks to the built-in Alexa voice control.
Store your prized hooch like a loyal Imperial by keeping it inside this Stormtrooper decanter. This elegant and geeky 750ml decanter is made from high quality super flint glass based on the Stormtrooper's helmet from the original 1976 film.
Transform regular ol' marshmallows into fluffy projectiles of mayhem by launching them out of the extreme marshmallow blaster! This compact blaster lets you shoot regular sized marshmallows over 30 feet so that you can effectively annoy everyone in your home.
Now you can train Rover to intelligently notify you when he needs to go pee outside by installing this smart doggy doorbell. This water resistant doorbell conveniently installs using an adhesive strip and can be customized to the volume and ring tone of your choice.
Let your MVP know you have their back when they're out on the field by waving around these personalized big head cutouts. The cutouts are available in sizes ranging from a few inches to a giant 3 foot tall head that is guaranteed to stand out in the crowd.
Challenge anyone in the world to a game of chess - even if they don't have a board themselves - with this intelligent chess board. It allows you to square off against over 200,000 players from 20 different countries or play against the board's A.I.
Life is hard, those are the cold facts. Shit Happens So Get Over It provides good advice to help you get through tough times. The book comes packed with inspirational quotes from famous people of the past and present like Ben Franklin and Reba McEntire.
Illuminating the dark parts of your closet is more convenient than ever when you hang up these illumined clothing hangers. They feature an elegant copper-like finish and provide a helpful light that emits a soft white glow, also making it great for providing ambient lighting.