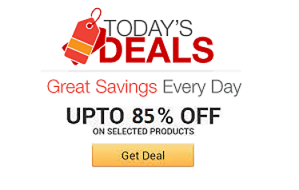 Find the coolest stuff at the lowest prices by browsing Amazon's incredible daily deals! You'll surely save a lot!
BevStow creates additional storage capacity by horizontally attaching directly under any glass refrigerator shelf with super strong suction cups. It solves the problem of wine bottles rolling around in the refrigerator or not fitting in the door.
Inferno is the revolutionary infrared grill that heats up to 1500F - so you spend less time cooking and more time enjoying your tasty meal. The grill instantly heats up to cook and sear your food to perfection in minutes while locking in all the juices and flavor.
Ensure that your flip flops never get stolen at the beach when you leave them unattended by wearing these ugly feet flip flops. These foam rubber flip flops feature soft polyester tops displaying a horrific set of grotesque feet in stunningly gruesome detail.
Relive the golden age of family road trips by making Don't Make Me Pull Over! your next reading selection. This National Lampoon's styled read takes a nostalgic and comical look the days when the entire family crammed into the station wagon for an adventure.
Prevent your lunch from being stolen with this fake mold anti-theft lunch bag. The bag has a design that makes it look like your perfectly good sandwich is actually ridden with mold. With the exception of public hangings, this is the best way to deter office thieves.
Make your snacks look more appealing than ever by dumping your chips inside the Nachosaurus. Modeled after a Stegasaurus, this eye-catching ABS plastic dip and snack dish can be utilized for anything from chips and popcorn, to french fries and hard shell tacos.
Keep yourself from becoming the main course at the blood buffet without having to get all sticky from sprays by using this mosquito repellent device instead. It's virtually odor-free, runs silently and creates a fifteen foot zone of protection against bugs.
The brilliant minds that brought you finger hands have outdone themselves with their newest creation - mini finger hands for finger hands. They're utterly useless, highly entertaining, and come in sets of five mini finger hands in assorted skin tones.
It's now possible to go diving without having a mountain of heavy equipment weighing you down thanks to this portable hand pumped refillable scuba tank. It can easily be refilled with a hand pump and provides up to 10 minutes of fresh air on demand.