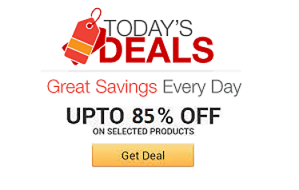 Find the coolest stuff at the lowest prices by browsing Amazon's incredible daily deals! You'll surely save a lot!
Play your favorite 70s era football game whenever you want by carrying this Mattel classic football game on your keychain. Measuring 2.75" x 1.6", this ultra compact game functions just like the original that you remember from your childhood.
Take a stand against intruders when you slumber with the self defense night stand at your bedside. The night stand's unique and versatile design allows it to function as both a stylish bedroom piece and a deadly club and shield combo that is ideal for self defense.
There's no better way to beat the heat than by treating yourself to a refreshing homemade snowcone! And now with this premium shaved ice machine you'll be able to make all the frosty and fluffy snow cones you want in as little as 3 seconds!
Get to know every nook and cranny of the fastest hunk of junk in the galaxy better than Han and Chewy by building this incredible LEGO Millennium Falcon set. This 7,541 piece set features an insane level of detailing - making the finished model a great collector's item.
Harnessing the power of the sun is easier than ever with these Goal Zero solar panels. Crafted from strong tempered glass, these monocrystalline solar panels are lightweight, weatherproof, and come with a handy kickstand so that you can place them at the ideal angle.
If you're the type who has a tough time making decisions, these decision maker coins will be a heaven sent. Each side of the coin comes with an image of a hand flipping the bird along with an enthusiastic "f**k yes" and "f**k no".
Nostalgia - so hot right now. Get in on all the fun by adding the Mini Commodore 64 to your entertainment center. Roughly half the size of the original, it features a classic retro design paired with updated features like an HDMI output and 64 built-in classic games.
Cars and Curves is the coffee table book that no gear-head or car aficionado will be able to put down. This tribute book to Porsche's long history comes loaded with amazing pictures of classic models like the Carrera GT and 906 along with informative factoids about the cars.
Have a laugh at the expense of others as you watch them struggle to plug in their electronic devices into the fake outlet sticker. Each one is printed onto a durable 4 mil vinyl adhesive with UV resistant paint to ensure the graphics don't fade with time or exposure to sunlight.