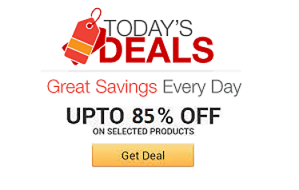 Find the coolest stuff at the lowest prices by browsing Amazon's incredible daily deals! You'll surely save a lot!
Create an air of serenity while you add some quaint ambient lighting to your room with the grasslamp minimalist desktop garden. The simplistic yet elegant design allows you to bring a touch of natural beauty and color you're sure to love.
Set your little Einsteins on the path towards a rewarding science related career by making learning fun with the Roboloq 6-in-1 robot building kit. It features an easy to use drag-and-drop coding format that makes it ideal for kids ages 8 and up.
Give any dish a spicy kick using one of these sriracha seasoning sticks. Simply impale the sticks into your meats and they will slowly begin to liquefy as you cook, allowing your meats to absorb the flavor from the inside out.
Who better to valiantly hold up your literary collection than Supergal? This sure-fire conversation piece employs the use of a small magnet to suspend Supergal in the air and create the illusion she's flying while holding up your books with her super-strength.
If regular beer pong has gotten too easy for you then have a swing at beer pong golf! This insanely fun hybrid game puts your aim, accuracy, and golf swing to the ultimate test as you try to swing a golf ball into one of the nine cups.
Help keep your body injury-free during adrenaline pumping activities by slipping into this shock absorbing protective padding. They're lightweight and low profile so they won't hinder movement and are made from a breathable wicking fabric for maximum comfort.
Makeover your kitchen or bathroom without spending a bundle on materials and labor by using these peel and stick floor tile decals for the job. These vinyl decals each measure one square foot and feature an easy peel and stick application that requires absolutely no tools.
Combine form and function with this innovative and modern stainless steel knives set. This cleverly designed set of knives looks like a solid piece of steel initially, but in fact each one of the four included knives can be pulled off from the block.
Ensure your plants thrive even if you completely forget about their existence by keeping them in the self watering planter. Featuring a stylish contemporary frame, the innovative design allows plants to receive nutrients via the special irrigation system.