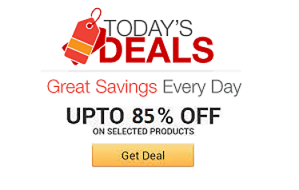 Find the coolest stuff at the lowest prices by browsing Amazon's incredible daily deals! You'll surely save a lot!
Stop F**king Tweeting and Go the F**k to Sleep, Mr. President is a bedtime book for civilized citizens who live in the real world, where a few snoozing kitties and cutesy rhymes don't always send the 45th President of the United States sailing blissfully off to dreamland.
Awaken your inner Jedi with this Star Wars augmented reality game. This captivating and immersive game trains you on how to become a fearless Jedi and expertly wield your lightsaber so that you can battle foes like Kylo Ren and the sinister Darth Vader.
Double your yearly intake of birthday cake by making your half birthday official with your very own half birthday cake. This festive candle is available in either hot pink or black and makes the perfect little gift for the person who loves to celebrate every occasion.
Relive the glorious days of drawing awesome masterpieces with crayons while eating your food with these washable draw-on tablecloths. Perfect for keeping the kids distracted, these draw-on tablecloths use special markers to let you clean and re-use them.
Fix any electronic gadget that comes your way by carrying this professional tech toolkit. The kit includes a wide range of high-end tools ranging from precision tweezers to a 64 bit driver kit - all neatly organized into a compact tool roll.
Stay in control of your vehicle when the roads get icy with these snow traction tire socks. They're inexpensive, machine washable, and are made up of a patented woven material that allows for extra traction at speeds of up to 25 mph.
Bring out your child's inner hero by putting them in the middle of all the action with the Avengers Infinity War AR experience. Styled like Tony Stark's iconic Iron Man mask, your pint-sized warrior will get the chance to battle the evil Thanos in hopes of saving the galaxy.
Improve your auditory experience in any environment by strapping on these Bose noise cancelling headphones. These Alexa and Bluetooth enabled headphones come with 3 levels of noise cancellation so that you can dive deeper into your tunes and concentrate with ease.
Create a romantic candle-lit ambiance without running the risk of accidentally burning down your home by using these flame simulating LED light bulbs. These energy saving LEDs are designed to flicker like real candles to give off an inviting warm glow.