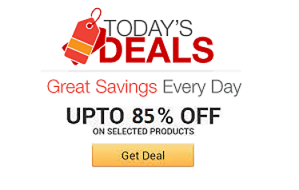 Find the coolest stuff at the lowest prices by browsing Amazon's incredible daily deals! You'll surely save a lot!
Effortlessly keep your feline friend entertained with this rotating laser cat toy. It features convenient hands-free operation and comes fitted with two safe-play low-output lasers that spin so that your kitty can play simultaneously with a friend.
Keep your ride squeaky clean with this car washing foam cannon kit. The kit allows you to give your vehicle a thorough and professional touch-free cleaning to reduce the chances of creating swirl marks and scratches.
Conveniently cook a hearty breakfast without leaving behind a mountain of dirty dishes by preparing your meal on the Gourmia breakfast cooking station. The design lets you easily toast, steam, and fry - right from the comfort of your counter top.
Keep your laundry room smelling as fresh as your newly washed clothes by preventing mildew from forming with help of the Laundry Lasso. It allows you to keep your washer's door slightly open yet out of the way to prevent mold, mildew, and bad odors from forming inside.
Avoid making a loud ruckus every time you drive in and out of your home by installing this ultra-quiet smart garage door opener. It features a remarkably silent 2HP motor, and can be fitted with a variety of extra modules like a speaker, park assist, and a fan.
Create an out-of-this-world ambiance next time you want to play some tunes by using this levitating UFO Bluetooth speaker lamp. Since the speaker doesn't touch the ground, it won't lose sound through vibration - resulting in crisper sound.
Harness the power of the sun for pure entertainment by playing with this solar powered grasshopper. This colorful little high tech insect will begin to shake its entire body once the sun hits the small solar cell mounted on his back.
Show everyone how like, totally over it you are, like for real this time, by serving your tasty entrees using the ex skewer set. This monument of relationships past stands by a small red serving tray while his body serves as the housing for a series of small and prickly skewers.
This flexible EZ reach straw makes spraying WD-40 in hard-to-reach places more convenient than ever. This sturdy eight inch long hose can be positioned in virtually any angle and can either be set to a steady stream or spray depending on the cap's placement.