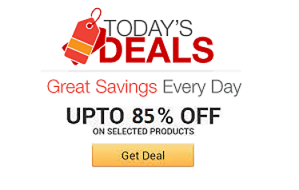 Find the coolest stuff at the lowest prices by browsing Amazon's incredible daily deals! You'll surely save a lot!
The Predator Orion 9000 takes smaller PCs and eats them for lunch! It boasts insane specs like a liquid cooled Intel Core i9 processor, dual NVIDIA GeForce GTx1080 Ti graphics cards, 128GB DDR4 RAM, and a slew of RGB lights bright enough to be seen from space!
Settle disputes like a modern gentleman by sending these smartphone controlled battle bots to duel it out for you. These pint-sized high-tech Bluetooth enabled warriors are easy to operate and can be controlled with both Android and iOS devices.
Top drone manufacturer DJI has just unveiled the Mavic 2 Pro - the drone with the longest flight time on the market! This high performance drone features omnidirectional obstacle sensing, trajectory prediction, a top speed of 44mph, and a flight time of 31 minutes.
Get the radiant smile you've always wanted from the comfort of home with the ultrasonic electric automatic toothbrush. The u-shaped brush contours to your teeth to provide a super deep cleaning to remove up to 100% more plaque and stains than a regular brush.
Instantly transform your living room into a comfy guest room with this elegant Murphy cabinet bed. This lovely solid hardwood cabinet folds out into an insanely comfortable memory foam queen sized bed complete with two sets of drawers for extra storage space.
Hop onto the self balancing electric skateboard and experience the thrill of gliding over asphalt without ever having to step off the board. The skateboard's bold design creates a remarkably smooth ride that makes the rider feel as if they're flying over the pavement.
When you require utmost reliability and efficiency to count your fat stacks, this UV digital bill counter is just the tool for the job. It features a quality steel construction, comes with built-in ultraviolet counterfeit detection, and can count 1,300 bills per minute.
Make learning fun for your little inventor-in-training by surprising him with the littleBits Avengers Hero inventor kit. It'll teach your pint-sized Tony Stark valuable STEAM skills while he builds awesome super hero accessories that he can actually play with.
When your ride needs a jump and there's no other car in sight, the NOCO portable car battery jump starter will come to your rescue! With this ultra-portable life-saver you'll be able to safely and quickly jump start a dead battery in seconds - up to 20 times on a single charge.