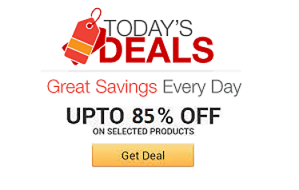 Find the coolest stuff at the lowest prices by browsing Amazon's incredible daily deals! You'll surely save a lot!
Show off your British pride while you take a stroll with the British flag umbrella on a rainy day. Next time the weather gets as gloomy as jolly old ...
The rich and soulful music of keyboard cat has warmed our hearts, and now you can pay tribute to this musical feline prodigy with the keyboard cat poster ...
Stop dirtying up your SUV when you load it up with debris and trash. With the cargo liner you can easily fill your vehicle with dead bodies stuff without it ...
Power your appliances with this genius flexible surge protector that can pivot and bend into circular and zig zag shapes so that those bulky power adapters ...
Ensure your pup stays afloat as they hang ten with the doggy life vest. This high performance life vest - designed for smaller breeds - allows your dog a ...
You bastard! Now you'll have to kill Kenny every time you want to get your data. This custom built South Park USB drive was created by installing a flash ...
Let this year's trick or treaters know you mean business by making them walk past these frighteningly evil looking mini Scarecrow statues before they can ...
With the healthy ice cream maker you won't have to sacrifice flavor to enjoy a nutritious snack. The ice cream maker instantly turns your favorite fruits ...
The bear feet slippers are the premiere way to keep your paws feet warm while you hibernate or walk around the house. These furry slippers envelop your feet ...