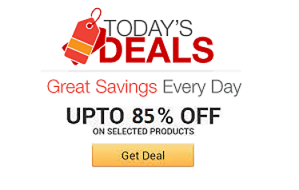 Find the coolest stuff at the lowest prices by browsing Amazon's incredible daily deals! You'll surely save a lot!
Quit struggling to watch Netflix on that small iPhone screen, because now you can watch full size TV and movies on the go with this portable iPhone movie ...
Ever wondered what happened to all those Koopa Turtles that Super Mario annihilated? Well, they were turned into backpacks! The Koopa Turtle Shell Backpack ...
This is the ultimate pillow if you like to sleep on your side. The Sleep Better Pillow has a small opening in the middle to allow you to place your arm ...
No one enjoys the taste of metal in their mouth, which is why you'll love having the magnetic wristband on your next construction job. It conveniently holds ...
Make every piece of lasagna extra tasty with the endless edges lasagna pan. The best part of lasagna is the crispity crunchy cheesy edge - no one wants the ...
Ditch those annoying buzzing, vibrating, and ringing alarm clocks. You can now wake up naturally with this gradually increasing Wake Up Light alarm clock ...
Bring a touch of sophistication to your man cave by storing your hooch inside this sixteenth century globe bar. The hollowed out inside of this 22? diameter ...
Harness the power of wind drag to make yourself into the fastest being on two legs using the resistance training parachute. The parachute allows for limited ...
Improve your acceleration on the field by working out with the speed resistance training parachute. It features a 360 degree rotation belt and a free motion ...