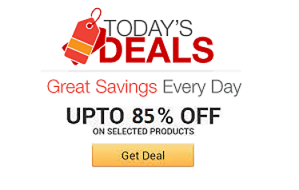 Find the coolest stuff at the lowest prices by browsing Amazon's incredible daily deals! You'll surely save a lot!
It may not include a sharp saw or screw driver, but the multi-purpose eating utensil will come in more handy than any other pocket knife you've ever owned ...
Give your baked goods an extra dose of sugar love using this heart filled cake pan set. The pan makes it remarkably easy to create a yummy cake with a ...
Run! Hide! Barricade yourself! Control this Zombie Action Figure with the brain-shaped remote control! A soulless body makes a horrifyingly entertaining gift idea. He trudges and groans! Run! Hide! Barricade yourself in the basement of an abandoned farmhouse! No, wait. You're in control of this soulless body, and you decide who or what he's after! This remarkable Remote Control Zombie stands 7 3/4-inches tall and is made of plastic. He will trudge forward and groan when you activate him by pressing the button on the 2 3/4-inch long, brain-shaped remote. All this... and brains, too! Horrifyingly entertaining, he's articulated at the neck, shoulders, and hips. Quick! Take control of this zombie... before it's too late! Requires 3x 'AAA' batteries, not included
Want to watch TV from the couch and eat at the same time? Want to use your laptop while sitting without heating your crotch to Mordor like levels? The lift ...
If you were told you could take only one item with you to a desert island, the ultimate Swiss Army knife is that one item you'd take. With over 87 different ...
Commemorate your favorite Sci-Fi saga of all time with these Star Wars collectible stamps. The selvage includes the iconic movie logo with an intergalactic ...
Spice up your lame book club meetings with the Necronomicon book, also known as the Book of the Dead! This Necronomicon book is actually a beautifully ...
Carry your newly born baby with ease thanks to the Peekaru hands free baby carrying jacket. The Peekaru is a cool gift idea for parents who live active ...
Upgrade to the water temperature displaying valve and never deal with excruciatingly cold showers ever again! Instead of having to feel out the temperature ...