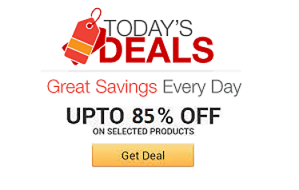 Find the coolest stuff at the lowest prices by browsing Amazon's incredible daily deals! You'll surely save a lot!
Avoid your friends having to nickname you 'four finger Freddy' by protecting your hands with the motorcyclist armored gloves while riding. Patented ...
Avoid a public humiliation while out at a social event by making sure a couple of high heel protectors are firmly attached at the base of your heels. It's a ...
Stop attracting Mr. Wrong - with the asshole repellent spray you can ensure that only good men will be coming your way on a night out. This life changing ...
Relive your glorious arcade days from the comfort of home with the iPad arcade cabinet. This mini cabinet features a cool retro design and includes ...
Avoid accidentally tripping and knocking over your shelter in the dead of night by pitching your tent using this glow in the dark rope. This sturdy rope ...
No day at the beach, pool or on the boat would be complete without a hefty supply of alcohol the waterproof boombox. This sturdy boombox encapsulates your ...
Have a killer party on the water with this giant inflatable lounger. Capable of fitting up to eight party animals comfortably afloat this massive floating ...
Avoid burning your fingers on the hot bowl you just heated up by using this cool to the touch microwave bowl. The ceramic bowl holding your food fits inside ...
Give your garden some exotic appeal by introducing the insect killing carnivorous cobra plant into the environment. This deadly beauty is capable of growing ...