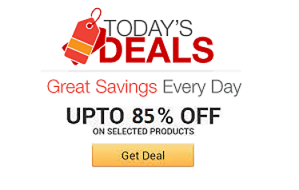 Find the coolest stuff at the lowest prices by browsing Amazon's incredible daily deals! You'll surely save a lot!
For when there is not enough room on the cake. A fun collection of novelty candles ideal for birthday girls and boys who just wont tell!
The iPaperPad is not magical or revolutionary. It's a paper pad. This package contains three pads with 25 pages each. The pads are 7.47" x 9.56" and have a writable area of 5 3/4" x 7 1/2" on the face and provide the entire surface area on the back for additional notes. This three-pad pack was specifically designed so you could have one for yourself and share two with friends. The iPaperPad may be the same size as the Apple iPad but unlike the Apple iPad, these paper pads are 100% recyclable and compostable. They require no batteries, have virtually unlimited resolution, and their speed is controlled by you instead of a custom processor. The interface is so intuitive even a baby can use it! Be the envy of all your friends (except the ones you share the extra pads with) and buy an iPaperPad today! PLEASE NOTE: The iPaperPad is only fully functional with a writing instrument which must be purchased seperately. The iPaperPad is 100% compatible with any writing instrument designed for paper: pen, marker, crayon, etc.
Enjoy a game of Russian Roulette with the whole family where nobody has to die - this water balloon version of the deadly roulette game plays with similar ...
Enact your wildest espionage fantasies by recording your surroundings using this spy video watch. This James Bond inspired gadget fits discreetly on your ...
Move huge amounts of equipment without needing a variety of dollies and hand trucks by using this transformable multicart. It features a powder coated steel ...
With versatility that rivals duct tape, the reusable zip ties are the household item you never knew you needed. Whether you need to tie a bag or bind ...
The yellow submarine tea infuser will take a tumble into the depths of your tea for the purpose of giving your beverage flavor and body. The submarine troop ...
LEGOs are the building block of many great structures, but they can also be the building blocks for an ice cold drink with these LEGO man ice cube molds ...
Set a romantic spacey mood to your bedroom with this star projector. With a rotating base and compass-point alignments, the cosmos star projector is perfect ...