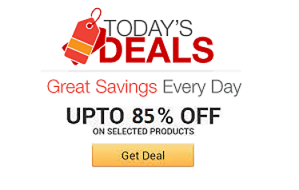 Find the coolest stuff at the lowest prices by browsing Amazon's incredible daily deals! You'll surely save a lot!
Bombard the enemy with a hailstorm of water balloons by shooting them from this fearsome handheld launcher. It works just like a slingshot - allowing you to ...
There's no better way to pound some spooky Halloween beers than with the skull beer bong. Once the desired brew is poured into the top of the skull, it ...
Get the privacy you need by taking the portable door lock everywhere you go. This handy device installs in seconds without any tools to provide a dependable ...
Take delight in Sparky's soul crushing diet by serving up his dried up slop on the nasty dog food place mat. This comical mat is easy to clean, features ...
Don't suffer through another Thanksgiving where the turkey is cold, the potatoes are lukewarm, and only the green beans are hot - the three tier oven rack ...
Now you can play with the focal instrument from arguably the greatest game ever made - Zelda: The Ocarina of Time. This ceramic twelve hole musical ocarina ...
Create a surreal nighttime environment in your yard using the glow in the dark pebbles. These all-weather pebbles emit a brilliant glow that'll transform ...
Capture the senses while you provide your home with some unique ambient lighting with the sound light dome. After installing the sound light dome in your ...
Get a sparkling clean grill without the hassle of scrubbing for hours by using this grill steam brush to do the job. It uses the power of steam to easily ...