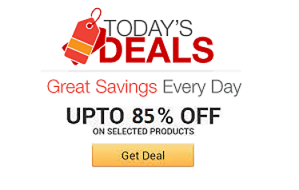 Find the coolest stuff at the lowest prices by browsing Amazon's incredible daily deals! You'll surely save a lot!
This USB recharger and surge protector combo is a clever way to turn a single electrical outlet into a multiple purpose electricity station. Use the USB ...
Defeat the great Bowser himself with your cunning moves when playing on the Super Mario Bros chess board. This geeky themed chess set features the entire ...
When you have to wake on time for an important event, the Star Wars R2-D2 projection alarm is your only hope. This pint-sized R2-D2 is the alarm droid ...
Throw away those cheap and uncomfortable ear buds that you got for free and listen to your music instead with these giant ear bud speakers! These novelty ...
Use your Jedi training to help you find things in the dark by wielding the lightsaber keychain flashlight. Shaped like the iconic weapon of choice from Star ...
Place the ideal finishing touch on any antique lamp you own with the vintage light bulbs. These vintage bulbs bring the past and present together. They ...
Now you can play with the focal instrument from arguably the greatest game ever made - Zelda: The Ocarina of Time. This ceramic twelve hole musical ocarina ...
Keep yourself alert and hydrated like a true gamer as you journey throughout the bowels of Azeroth by consuming the mana energy drink. Packed with more ...
Show the kiddies how magical nighttime can be as you illuminate their world with glow in the dark bubbles. The special solution gives off an incredible ...