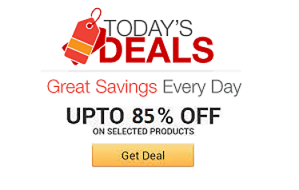 Find the coolest stuff at the lowest prices by browsing Amazon's incredible daily deals! You'll surely save a lot!
Light up your bedroom at night with Science! Creating a beautiful show of pink and purple lightning, these plasma bulb night lights are mini versions of ...
Awe in amazement as you watch two of Earth's mightiest heroes use their brute strength to hold up your books with the Superman and Batman bookends. This ...
Energize your body for the day ahead by chugging this sugar enriched Duff Beer energy drink. It's styled after Springfield's famous brew and comes chock ...
Now you can combine Halloween with Christmas and celebrate these joyous holidays for two months straight with this Nightmare Before Christmas lamp ...
Get an astronomer's point of view of the night sky as you stare at its many star formations on the glowing constellations globe. This 2-in-1 globe displays ...
Science, bitch! This nostalgic electricity ball combines captivating art with simple science to create a fun, interactive, and mildly educational toy ...
The lucky pilot of the spaceship inflatable pool toy will rule the pool with an iron fist as they bombard alien scum and any other sunbather or bystander ...
Star Wars and LEGOS have always gone together like peanut butter and jelly, but this LEGO Millennium Falcon takes the cake. The 5,195 piece Millenium Falcon ...
Celebrate the holidays in true geek fashion with the Star Wars AT-AT snow globe sitting on your mantle. Don't just opt for a boring Santa or reindeer snow ...