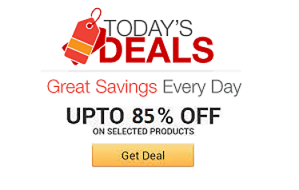 Find the coolest stuff at the lowest prices by browsing Amazon's incredible daily deals! You'll surely save a lot!
Terrorize the good citizens of LEGO Town with the full brunt of the Empire by commissioning the construction of the LEGO Death Star. Once built, this ...
Commemorate the original version of the Star Wars film like a true fan with the Han shot first bookends. These expertly crafted bookends depict the iconic ...
Recharge your batteries like never before with these innovative USB connecting rechargeable batteries. These easy to use rechargeable batteries pop their ...
Keep your work space looking immaculate by constantly sucking up any dirt or crumbs with this USB powered vacuum cleaner. It plugs directly into your PC's ...
Our favorite hero/talk show host of the 90s is finally available in action figure form and we couldn't be happier. Whether the mission is saving the galaxy ...
If your armpits smell like more than just 'teen spirit', then fight your offensive body odor with this iconic deodorant. Specially designed for grungy ...
Light up your bedroom at night with Science! Creating a beautiful show of pink and purple lightning, these plasma bulb night lights are mini versions of ...
Awe in amazement as you watch two of Earth's mightiest heroes use their brute strength to hold up your books with the Superman and Batman bookends. This ...
Energize your body for the day ahead by chugging this sugar enriched Duff Beer energy drink. It's styled after Springfield's famous brew and comes chock ...