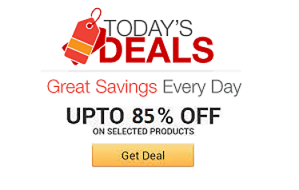 Find the coolest stuff at the lowest prices by browsing Amazon's incredible daily deals! You'll surely save a lot!
Cool item! You'll never give a boring gift again with our never ending list of amazing products.
Braces yourselves - dinner is coming. Experience the grandeur and deliciousness of a Winterfell feast in your own home with help from the Game of Thrones ...
Get real scientific answers to the absurd hypothetical situations you've always wondered about by reading 'What If?'. Written by former NASA roboticist ...
No one can claim to be a true die-hard comic fan without having read the Marvel Comics Untold Story. This compelling book tells the story of how Marvel ...
Channel the Force in order to bake some of the most delicious treats in the galaxy with the Star Wars cookbook. With this unique cookbook in your capable ...
Relive the wonderful memories of your favorite decade with the 90s coloring book. This entertaining book offers page after page of 90s-tastic images like ...
Get your infant ahead of the curve from day one with Calculus for Infants. This amusing booklet will teach your child the introductory lessons of calculus - ...
There's no need to enter a sweepstakes in order to own the classy leg lamp from the beloved holiday film A Christmas Story. This stylish light fixture is a ...
Use the Force to out bankrupt the competition when you play the Star Wars edition Monopoly. It combines the intergalactic action of the Star Wars movies ...