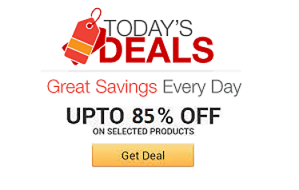 Find the coolest stuff at the lowest prices by browsing Amazon's incredible daily deals! You'll surely save a lot!
Say goodbye to your diet and hello to cavities! Nothing will satisfy your sweet tooth quite like this giant Blow Pop. This Blow Pop shaped container comes jam packed with an assortment of eight tasty Blow Pops that include flavors like watermelon, grape, and strawberry.
These matches are the ultimate survival tool. Completely waterproof, they'll light even if drenched. And once lit they cannot be blown out. Entirely windproof, they'll even burn in a hurricane! Submerge a lit match in water? It will still continue to burn!
End your stellar dinner party on a grim note by handing out these misfortune cookies to everyone at the table. You won't find happy fortunes about love and wealth in these cookies - only bleak fortunes that only someone with a dark sense of humor will appreciate.
If you like to bike at night and want to make sure you'll always be seen by oncoming traffic then these LED bike wheel lights are for you. Along with providing safety, they also look incredible with 32 full color LEDs that easily install onto your existing bike's wheels.
Fall into a soothing and relaxing sleep faster than ever before with help from this deep sleep pillow spray. Just a few spritzes of this clinically proven spray is all you'll need to fall asleep faster and wake up feeling more refreshed than ever.
Show everyone who visits your home how you feel about cryptocurrency by placing this brilliant Bitcoin toilet paper roll in your bathroom. Each of the 250 sheets in this ultra soft 3 ply roll of toilet paper come with a gold Bitcoin printed right at center.
Make your commute more enjoyable by filling your ride with a pleasant scent using this car fragrance air freshener. It features an elegant design that can easily be clipped onto your car's A/C vent and comes with 3 refill pads that each last for up to 3 weeks.
Get yourself in fighting shape from the comfort of home by incorporating the FightMaster boxing trainer into your workout routine. It comes with numbered target pads that allow you to practice any number of punch combinations.
Paint by numbers is the easy-to-follow kit that helps you create amazing masterpieces even if you have no artistic skills. Simply match the numbers to the corresponding color of paint and watch as the work of art appears right in front of your very eyes.