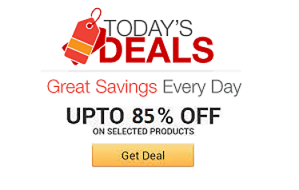 Find the coolest stuff at the lowest prices by browsing Amazon's incredible daily deals! You'll surely save a lot!
Treat your taste buds to a delectable treat from Snoop Dogg's Cookbook any time the munchies strike! It's packed with 50 mouth-watering recipes from Tha Doggfather himself, with OG culinary staples like fried bologna sandwiches and baked mac and cheese.
Keep a level head should the unthinkable happen by reading 100 Deadly Skills. Retired Navy SEAL Clint Emerson provides you with the knowledge and skills you will need to survive any dangerous situation like how to evade capture and successfully elude pursuers.
Learn about the long and fascinating journey your prized roasts take before they make it to your mug by reading The World Atlas of Coffee. You'll learn about every aspect of this incredible plant - from its origins and history, to the cultivation process and beyond.
In a world increasingly filled with alternative facts, learn how to know what's really real by reading The Skeptics' Guide To The Universe. This all-encompassing guide to skeptical thinking will help you apply logic and reason to your everyday life.
After much speculation and rumors, the Beastie Boys Book has finally been released. Fans of the iconic and influential group can now sift through the almost 600 pages and learn how they went from an obscure band to a worldwide sensation and household name.
Published posthumously, "Brief Answers To Big Questions" is Stephen Hawking's parting gift to humanity. This fascinating read tackles a series of incredibly interesting subjects such as the future of humanity, space colonization, and whether God exists.
Fill your drab day with a little color and humor with "How To Get Fired On Your First Day". This witty notebook comes with 200 blank white pages and is styled like a fake and totally preposterous book that's sure to get a laugh or two.
Life is hard, those are the cold facts. Shit Happens So Get Over It provides good advice to help you get through tough times. The book comes packed with inspirational quotes from famous people of the past and present like Ben Franklin and Reba McEntire.
Celebrate the greatness that is Ranch dressing with this holy grail of recipe books. It will teach you how to make Ranch from scratch as well as how to incorporate it into snacks, dips, grain bowls, salads, or even straight into your bloodstream!