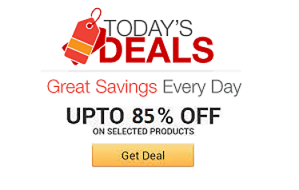 Find the coolest stuff at the lowest prices by browsing Amazon's incredible daily deals! You'll surely save a lot!
How to Train your Dragon Slippers night fury toothless are 11" long....
If you're ready to get in the spirit of Halloween, add some funk to your costume with glow in the dark nail polish. Forget glowsticks! There's an easier and c...
The compact antique ivory makeup organizer keeps your everyday makeup in place, visible and right at your fingertips. Brushes, combs and other large items go in the side ...
Best way to get cosy on a tiring hiking cold exhausting day is to unwind and relax in the Wearable Sleeping Bag....
As the cold weather draws in, who better to protect you from the wind and rain than the Marvel Comic Umbrella, Marvel crew Hulk, Spidey, Wolverine and chums all adorn thi...
A modern spin on a classic favorite! Your days bikini panty of the week panties are back with a hashtag inspired theme and 7 clever phrases, such as #mancrushmonday and #...
The Retro British Wind Shoulder Bag makes you get lots of compliments. It is a super comfortable and a perfect size bag made out of high quality PU leather for daily use ...
Put these on your paws! Furry Grizzly Bear Slippers to keep your toes wild 'n' toasty all winter long. They're fuzzy and fleecy to fight frigid freeze o...
These Aysha Silver Netted Round Flip Up Metal Frame Sunglasses will definitely add a look. The Netted Flip Up Metal Sunglasses have a unique creative design, in the lates...