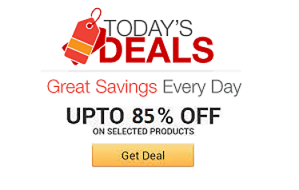 Find the coolest stuff at the lowest prices by browsing Amazon's incredible daily deals! You'll surely save a lot!
This is the Pizza Party Sweater by Alex Stevens. It is the most glorious sweater in all of the sweater land. Want one of your very own? Of course you do! You're human after all. ACT NOW - it's on sale for less than $17. That's a steal! Don't like pizza? I don't believe you. The shop's also got sweaters with a T-rex astronaut, chicken wings, a hula hooping polar bear, a wolf howling at a rainbow moon, beer bottles, a majestic eagle head, and more! There's got something for everyone! Unless you like nothing. In which case, there is nothing for you. Which is a good thing. Because you like nothing.
Everyone, stop what you're doing - a Star Wars Hawaiian Shirt exists IRL. Why? I think the real question here is why not? I can think of a thousand reasons why! Like, maybe you're attending a Star Wars themed BBQ. Or um, a Star Wars themed luau. Perhaps, uh... a Star Wars themed casual Friday at the office? Okay you're right. That last one was a stretch. A long painful stretch, in fact. I think I pulled a muscle!
Check out these Teenage Mutant Ninja Turtle pajamas being sold on Amazon for $40. You can choose from Leonardo (HERE) or Michelangelo (HERE). No word on why they didn't include Donatello and Raphael but my guess is, someone's got a grudge. Probably Krang.
Check out this super cute Little Mermaid swimsuit! The pieces are sold separately (top HERE, bottoms HERE) for $24.50 each. Why in the world would you buy one and not the other is beyond me. Separating the top from the bottom is almost as cruel as, I dunno, like, separating mermaids and humans or whatever! It's not okay, guys!
OYOBox sees your future. It's bright. So bright you gotta wear four pairs of shades. Or at least have four on hand, stored neatly in a carbon fiber sunglasses case, to swap out according to the day's clothing choices...
Ready for an all natural, chemical-free, paleo-approved armpit rubdown? Primal Pit Paste, in addition to sounding formidable and manly, is a deodorant made with only real, organic ingredients, such as coconut oil, baking...
Live your life with no ragrets - not even a single letter - when you proudly display your fail-proof motto with this temporary tattoo. It's easy to apply and is perfect for job interviews and first time meet and greets with your financially and emotionally stable in-laws.
Ditch those heavy straps and give yourself a more natural and nurturing way to carry your newborn by placing your baby inside the Lalabu dad shirt. It comes with a giant front center pouch that is designed to calm your baby and encourage bonding.
Give your baby bump some geeky flair by slipping into this Death Star maternity shirt. This creatively designed shirt features a large graphic that transforms your protruding belly into the sinister weapon used by the Empire to obliterate entire planets.