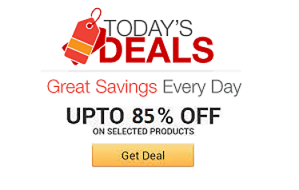 Find the coolest stuff at the lowest prices by browsing Amazon's incredible daily deals! You'll surely save a lot!
Stay warm without sacrificing style by slipping into a pair of these knee high no show socks. They feature a moisture wicking property to help keep your feet dry and odorless while also helping to prevent blisters - so you can remain comfortable throughout your day.
Well isn't this just glorious AF? Check out these wolf boxer briefs. Yes this is a real thing that exists. The underwear puts the face of a wolf stretched across your ding-dong. Very strange yet somehow I am intrigued. Just kidding I don't even know what that means it just sounded smart in my head. But yeah now that I say it out loud I have regret.
To buy a pair head on over to the My Sexy Shorts website HERE or find them on Amazon HERE.
Check out this Self-Cleaning Brush sold over HERE at Amazon for $20. It's got a bristle retraction system that forces trapped hair out! Genius. Way easier than running your fingers through the bristles or brushing your brush with another brush. You ever try that before? Me too. Immediately regretted it.
Drinking is an integral part of getting through the winter. So is keeping warm. Why not kill two figurative birds with one metaphorical stone with the Mitten Flask? The classic mittens come with a 4 oz pouch hooked up to a bite valve in the thumb. It costs just $20 to get your hands on in a pair. Booze not included.
To me aprons are bibs for adults. I'm a messy eater! This is the Grill Sergeant Apron. It prepares you for even the most brutal of BBQs with its bottle opener 3 tool pockets 4 sauce pockets salt & pepper pockets and an artillery belt that holds 6 cans. The apron is one size fits all because this is Americuh dammit. The fattest nation in the history of Earth! This is gonna be the perfect addition to my next cook out. Lord knows I need all the help I can get. It's a real battle eating enough food to feed an entire troop when you're only an army of one.
Crazy Dog T-Shirts (not to be confused with Wacky Cat Turtle Necks) is selling this Ask Me About My Ninja Disguise tee. On the front it says 'Ask Me About My Ninja Disguise' and on the inside there's a ninja mask that you can pull over your head. Pretty clever. I personally don't like to be told what to do, so if your T-shirt tells me to ask you about anything, it's likely I'll avoid that topic completely. What can I say? I'm a fun time!
Turn your headlights into actual headlights with these LED pasties by Sasswear. Sasswear is right! I think we can all agree there's nothing more sassy than a light-up areola. The reusable adhesives are hypoallergenic and the rechargeable batteries last over 20 hours. That's a long-ass time to be blasting your nips, but who am I to judge? I'm just a person who ordered a pair in every color.
Remember when I threw that party and we made fun crafts outta cat hair? Of course you don't you never showed up! You didn't even have the decency to RSVP. It's your loss though. I served cocktail wienies drenched in ketchup. Sooo good. But don't you worry I've got a new craft night theme up my sleeve. A knitting with dog hair partyyyy! Author Anne Montgomery brings us this book called 'Knitting With Dog Hair: Better A Sweater From A Dog You Know and Love Than From A Sheep You'll Never Meet'. That... is a long title. But I'm not here to judge I'm here to knit some f***ing weird dog-hair sweaters. Plus eat cocktail wienies!