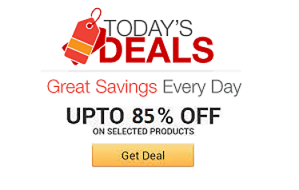 Find the coolest stuff at the lowest prices by browsing Amazon's incredible daily deals! You'll surely save a lot!
Bring some class to your quaint home bar with this ship in a bottle whiskey dispenser. It's expertly hand-blown from durable, thick glass and comes with a ground glass stopper to create a hermetic seal so that your spirits never evaporate.
Give your tasty gingerbread house some added curb appeal by complementing it with an equally delicious cookie Christmas tree. This simple and easy to use 15-piece set includes everything you'll need to whip up a cookie tree that you can trim with your favorite toppings.
Store your prized hooch like a loyal Imperial by keeping it inside this Stormtrooper decanter. This elegant and geeky 750ml decanter is made from high quality super flint glass based on the Stormtrooper's helmet from the original 1976 film.
Whip up one incredible meal after another with the greatest of ease by cooking with the Instant Pot. This programmable pressure cooker replaces 6 kitchen appliances - allowing you to perform everything from sauteing and cooking to warming, steaming, and more.
Make your already tasty hot cocoa more delicious than you ever thought possible by complementing it with this snowflake marshmallow mug topper. The giant snowflake floats above the chocolate to give your drink a fun and delicious holiday twist.
Keep your kitchen organized while you cook by slicing and dicing on top of this bamboo cutting board with trays. It comes fitted with a series of transparent drawers that pull out from underneath so that you can easily slide your chopped up ingredients inside.
Control your gluttonous and impulsive eating habits by storing your favorite foods inside of the time locking kitchen container. This one of a kind container features a programmable lid that locks itself for up to 10 days, and cannot be opened until the timer runs out.
These secret hidden flask mittens will help you battle the frigid cold in more ways than one. The left mitten comes with a concealed 4 ounce BPA-free refillable flask that you can fill up with your favorite spirit to remain warm and socially lubricated.
Cook up the most important and tasty meal of the day with greater ease than ever by preparing everything on this all-in-one breakfast machine. You'll be able to simultaneously whip up everything from your bacon, eggs, and toast, to your piping hot cup of Joe.