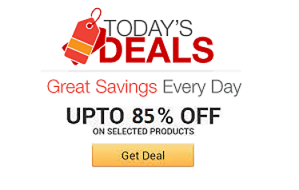 Find the coolest stuff at the lowest prices by browsing Amazon's incredible daily deals! You'll surely save a lot!
Give your party a trippy edge to it with these glow in the dark shot glasses. Ideal for black light parties, each package comes with four brightly glowing ...
The circus is back in town and tastier than ever. The circus animal waffle maker creates fun-shaped waffles in the form of lions, elephants and other circus ...
Love making cake pops but want to stream line the process of clogging those pesky arteries? Now you can make up to seven cake pops at a time easily thanks ...
Stop eating corn with your hands like a caveman - now you can easily strip off the delicious corn kernels and have a tasty side dish ready to eat with this ...
Serve up your delicious melty pie without spilling toppings all over by cutting the slices using this pizza scissors spatula. Once you begin cutting, the ...
Bring absolute precision to your baking sessions by measuring out ingredients on the digital spoon scale. The spoon provides exact measurements in both ...
Ditch the oven and cook a pizza at a park, a tailgate party, or even in your own backyard with these pizza barbeque grilling stones. These BBQ pizza ...
If somehow you are still sober after playing a couple of games of shot glass checkers then you should try satisfying your bottomless pit of a liver with ...
We're in the 21st century, it's time to throw out that old dated candy bowl and replace it with the motion activated candy dispenser. This fabulous machine ...