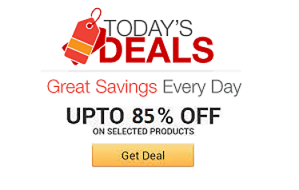 Find the coolest stuff at the lowest prices by browsing Amazon's incredible daily deals! You'll surely save a lot!
Keep your most valued wines and spirits safe from thirsty thieves with the combination wine bottle lock. Designed to fit most wine and liquor bottles, this ...
Zombies are to brains as humans are to cookies. This zombie head cookie jar is an attention grabbing cookie container that will allow you to keep your ...
Real men fight bears, arm wrestle lions, and drink exclusively from skull shot glasses that are lit on fire. Now you too can own yourself some skull shaped ...
Make any party an epic one by setting up a glow in the dark beer pong competition. Now thanks to the neon lit cups, balls and table you'll be able to add an ...
Drink with caution - there is a deadly surprise waiting at the bottom of this drinking mug. As you slowly drink and the liquid levels drop, the deadly shark ...
Satisfy your lust for zombie paraphernalia with this zombie hand goblet. This hand painted 7 ounce piece will make you feel like a zombie's rotting hand is ...
Taste the nutritious rainbow by sampling the delicious products grown from the rainbow carrot seeds. Upon plucking these carrots from your technicolor ...
Relive the glory days of playing with your food and playing with plastic army men figurines with these rugged and reusable army men food picks! These army ...
The shot and chaser shot glass enables party goers and alcohol enthusiasts to seamlessly transition from shot to chaser in one fluid movement. Cut on lag ...