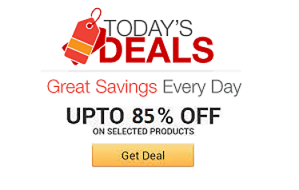 Find the coolest stuff at the lowest prices by browsing Amazon's incredible daily deals! You'll surely save a lot!
With the perfect hard boiled egg timer the days of guesstimating cooking time for your eggs are over. The hard boiled egg timer goes directly into the pot ...
Keep your honey jar un-stickified with the honey syrup dispenser. The dispenser holds your honey better than the bear from the grocery store since it ...
Funkyfoodshop is the #1 seller of space food on the Internet and this is our bestselling item: Neapolitan Astronaut Ice Cream Sandwiches. You receive 10 Neapolitan (Strawberry, Vanilla and Chocolate) ready-to-eat freeze-dried ice cream sandwiches. This is the kind you find at science museums at two or three times the price. Originally developed for NASA's Mercury missions, Astronaut Ice Cream is frozen to -40 degrees F and then vacuum dried and placed in a special foil pouch. This is real ice cream with a delicious crunch yet creamy sweetness that melts in your mouth, sandwiched between two chocolaty wafer cookies. Out of this world--it's an intergalactic treat that can't be beat!
Expand your culinary horizon as you utilize the ravioli rolling pin to add master pasta maker to your repertoire. This unique beechwood rolling pin measures ...
Make every day a waffle cone day with the waffle cone maker. The waffle cone maker takes a few simple ingredients and combines them to make the perfect ...
Make meal time more entertaining with the subtle whimsy of the fish utensils. Each creatively designed stainless steel utensil is made to resemble a gentle ...
Blast through your anus with reckless abandon as you condiment everything you eat with the colon cleaner hot sauce. With its assortment of fiendishly spicy ...
Learn how to make top-shelf Chinese cuisine while immersing yourself in the story of the Mission Chinese Food restaurant. Written by famed chef Danny ...
Take your jello shots from the dorm room to the black tie event with aid from the gourmet jello shots recipe book. The book provides detailed instructions ...