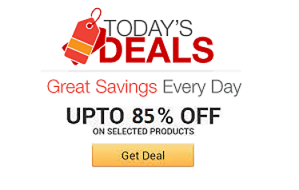 Find the coolest stuff at the lowest prices by browsing Amazon's incredible daily deals! You'll surely save a lot!
Enjoy a healthy snack without sacrificing flavor by seasoning your meals with powered peanut butter. Made from all natural ingredients including roasted ...
Whiskey stones are freezable naturally mined soapstones that will keep your drink cold but won't water it down. The whiskey stones will keep your drink cold ...
Show people you mean business by cutting someone in half while you sharpen your knives with this novelty magic trick knife sharpener. This knife sharpener ...
Slice and dice your way through a delicious sushi meal like a noble Jedi with these lightsaber chopsticks. Styled like Luke's iconic green lightsaber, these ...
Stop waiting for your ice cream cake to thaw when you pull it out of the freezer - now with the hand saw cake cutter you can cut through even the toughest ...
Your drink is always just a little bit too warm for your tastes. You need a classy straw to take care of your drink and make it just a little more fabulous ...
Make your own corn dogs from home in only six minutes with this fun and easy to use corn dog maker. With an easy to clean design and a recipe book included ...
Keep others from guzzling down your best wines and liquors with the hardcore bottle labels. The labels come with appalling and gruesome title like 'rat ...
Set up a picnic table anywhere you want with this portable suit case picnic table. At only twenty-two pounds this picnic table suit case makes an ideal ...