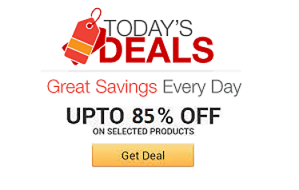 Find the coolest stuff at the lowest prices by browsing Amazon's incredible daily deals! You'll surely save a lot!
Exercise your second amendment right like a true 'Murican with the beef jerky gun. Featuring a one pound capacity jerky reservoir and stainless steel ...
Add a nostalgic childhood splash of fun to your kitchen and/or dining room table with these LEGO Salt and Pepper shakers. These eye catching salt and pepper ...
Everything you know is a lie. Now you can make your salads pop - even if they're not very tasty - by incorporating some purple carrots into the mix. These ...
Quench your thirst and entertain friends and family by providing a them with a good laugh using these nose paper cups. These humorous paper cups feature a ...
Satisfy your hunger without increasing your pants or dress size with the barbecue sunflower seeds. These delectable treats come with a mouth-watering ...
Peel your favorite fruit like a total pro with the apple peeler machine. Virtually anyone can use this appliance; once the apple is mounted on top, the ...
Start your morning off right - with a penis in your mouth! With these naughty penis shaped egg frying molds you'll be cooking up a protein storm of phallic ...
Churn out delicious frozen treats guaranteed to delight by using this old fashioned bucket ice cream maker. It comes with a heavy duty four quart aluminum ...
Easily fit pieces of ice into your water bottle with this clever ice cube sticks tray. For decades mankind has been baffled by how to properly chill plastic ...