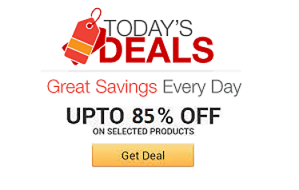 Find the coolest stuff at the lowest prices by browsing Amazon's incredible daily deals! You'll surely save a lot!
Kick your party in high gear by taking your guests from buzzed to rip-roaring drunk when you bust open this tequila pistol decanter chest set. The set comes with an eye-catching pistol shaped decanter made from glass in addition to five accompanying shot glasses.
Just because you're drinking from a can doesn't mean you can't enjoy a nice frothy head on your brew. The ultrasonic beer can foamer fits over the can and utilizes ultrasonic vibrations to create a thick and creamy head of foam as you pour it into your glass.
Everyone's favorite wacky inflatable tube man is making the leap from the used car lot to your living space! Available in two desktop appropriate sizes, it's designed to fit on top of a small base that can be operated with the push of a single button.
Keep your pearly whites from getting stained when you're sipping your grown-up grape juice by drinking your vino with this wine aeration straw. It's crafted from FDA grade aluminum and designed with a micro-port aeration system for the best taste possible.
Everyone knows the best part of a brownie is the warm and crispy corners! This uniquely shaped brownie pan is crafted from durable carbon steel with a non-stick coating for easy release and will make a batch of 12 delectable brownies all possessing crispy outer edges!
This holiday season give your taste buds a gift they'll treasure forever by making the most delicious dessert in the world with this Reese's Peanut Butter Coookie skillet kit. The kit comes with everything you'll need to whip up a giant cookie - including a durable cast iron skillet!
Treat your taste buds to a delectable treat from Snoop Dogg's Cookbook any time the munchies strike! It's packed with 50 mouth-watering recipes from Tha Doggfather himself, with OG culinary staples like fried bologna sandwiches and baked mac and cheese.
Eat healthier without sacrificing taste by preparing your meals with help from this programmable hot air deep fryer. It features an extra large 12 quart capacity and can be utilized for everything from frying and grilling, to roasting and even baking.
Easily make professional looking sushi from the comfort of home using the perfect sushi roll machine. It comes with a helpful recipe book and features a simplistic, elegant design that's ideal for culinary enthusiasts of all skill levels.