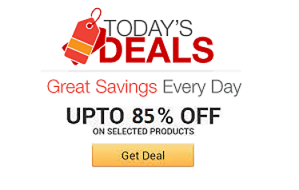 Find the coolest stuff at the lowest prices by browsing Amazon's incredible daily deals! You'll surely save a lot!
Cook your premium slab of meat to perfection every time with this digital steak thermometer. This grill and oven friendly thermometer can accommodate up to 4 probes and simultaneously display their temperatures so that you can monitor all your steaks at once.
Slather your delicious fast food in savory sauce without making a mess by outfitting your ride with this in-car condiment holder. This clip is specially designed to fit into your car's air vent so that you can conveniently dip your food while you're on-the-go.
These forks have cutting power! Designed for both left and right handed users to rock through a variety of foods with rounded beveled tines and a comfort finger platform.
It's only fitting that one of the world's most playful treats is finally making it okay to play with your food. With this JELL-O play and eat construction kit you'll be able to create small and tasty JELL-O blocks that can be used to create any structure that you can imagine!
Experience the unique taste of matcha green tea in an entirely new way by biting into these Kit Kat minis. Each mini features a crispy wafer center that is coated in an eye-catching green chocolate with a savory green tea flavor that will thrill your taste buds.
Give into your sweet tooth and indulge in some dessert without the guilt by snacking on these Buff Bake protein cookies. These non GMO gluten-free treats come packed with 16 grams of hormone-free whey protein and a respectable 13 grams of fiber.
Turn your garden into the talk of the town by using these giant watermelon seeds to grow some freakishly large watermelons. With just 90 days to maturity, each seed will transform into a vibrant, flavorful, and unbelievably massive 200 pound watermelon.
Make every spice in your artillery equally accessible by placing them all inside this mini lazy Susan. Once installed, simply spin the blue turntable disc to rotate through your spice collection until you find just the right one for your tasty meal.
Whisk your taste buds off to France by sinking your teeth into one of these delectable gourmet Parisian rainbow macarons. Each box comes filled with 16 colorful and mouth-watering little treats complemented with either a chocolate or natural fruit ganache filling.