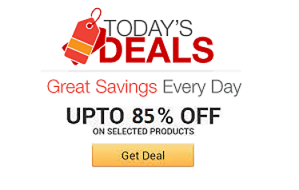 Find the coolest stuff at the lowest prices by browsing Amazon's incredible daily deals! You'll surely save a lot!
Introducing THE ORIGINAL Beverage Boat. BigMouth Inc tubes are made of high quality, thick, durable multi-color vinyl. Great for holding cans or cups while lounging in a pool or hot tub, these drink floats are the perfect way to make friends and family members laugh.
Keep your favorite foods and snacks from going stale with help from the Air Lock bag resealer. Just one swipe is all it takes for the new micro-thermal technology of this compact appliance to create an airtight seal that will keep your food fresh.
No castle would be complete without cup holders for the padded throne - that's why you need a weighted couch cup holder! The weighted sides will securely hold your drink in place while the silicone mold is large enough to accommodate mugs, tumblers, and bottles.
Slathering your corn with your favorite artery-clogging topping will be easier than ever with this corn buttering knife. It features a unique curved stainless steel blade that contours to the corn's round shape so that you can coat that sucker in butter like a pro.
Treat your taste buds to a little exotic flavor by snacking on this yummy earthworm jerky. Made with no artificial flavoring or colors, these boiled and dehydrated earthworms are seasoned with garlic and onion powder, red chilis - and are a great source of protein.
Make better drinks than Tom Cruise in Cocktails with the perfect drink smart bartender. Once it's connected to your tablet the smart bartender shows you how to concoct the perfect cocktail by providing the exact measurements and ingredients needed.
Have your drink shaken, not stirred - and edible - with these flavored cups that you can eat! You'll be concocting all sorts of wild combinations like chilled Grey Goose in an olive-flavored cup, and the sweetest blue raspberry Jell-O in a lemon-flavored vessel.
Bring your threats to fruition by literally opening up a can of whoop ass on somebody! This awesome gag gift comes with a highly detailed and informative label complete with comical graphics and a list on ingredients that include "1/2 cup of pain" and "1 oz of hardcore".
Give your meals an extra dash of 'Murica by preparing them on these cast iron U.S. state shaped skillets. You'll be able to choose from a series of heirloom quality skillets shaped like every state in the union - including a skillet shaped like the entire country.