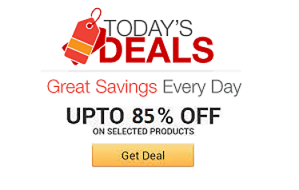 Find the coolest stuff at the lowest prices by browsing Amazon's incredible daily deals! You'll surely save a lot!
Revolutionize outdoor cookouts by transforming your gas grill into a fully functional pizza oven! With this BBQ pizza oven box from BakerStone you'll be able to convert your gas grill into a gourmet oven capable of reaching temperatures of up to 800 degrees Fahrenheit.
The Keurig K-Mini makes it possible to enjoy a top quality roast virtually anywhere you go. It can brew up to 12 ounces, features a spacious storage area large enough to hold up to 9 pods, and a slim 5" wide design that make it ideal for virtually any counter top.
Why settle for a regular bottle opener when you can pop open your cold one using the teeth of a skull mounted on your home bar's wall? This sinister skull is crafted from cast iron and makes the ideal addition for any home bar or man cave.
Make your daily lunch routine a bit easier, colorful, and all around more pleasant experience with the world's best smart lunchbox. It features a modular container system that allows you customize its layout depending on what's on the menu for that day.
No self respecting beer lover's home bar would be complete without a few of these half pint beer glasses. It can hold up to 8.4 ounces and features a long slender design that will make them a sure-fire conversation piece with all your drinking buddies.
Keep your favorite vino perfectly chilled without watering it down with ice by inserting this wine chilling stick into your bottle. This must-have accessory will keep your prized wine at the perfect drinking temperature for up to one hour.
What better vessel for your favorite poison during your next poker night than this casino chip whiskey glass? This handmade gem stands at approximately three inches, holds up to ten ounces, and comes embedded with a genuine black poker chip on the side.
Ensure your warm beverages remain hot until the very last drop by serving them in this self-heating smart mug. This remarkable fine bone China mug charges through a smart QI coaster and will keep your beverage at the ideal temperature without burning your hand.
Revolutionize the way you consume your meals and treats by using edible cutlery. Designed to replace wasteful plastic utensil usage, this vegan friendly cutlery is designed so it's easy to grab and comes in three varieties including rice, wheat, and sorghum.