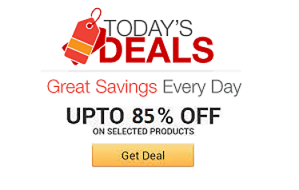 Find the coolest stuff at the lowest prices by browsing Amazon's incredible daily deals! You'll surely save a lot!
Ensure you're energized for the long day ahead by starting your morning with a little Coffee Bitch Slap. This exotic specialty blend combines the best African and South American beans for an incredibly potent yet smooth taste.
Take your culinary skills up a notch by creating 5-star restaurant quality meals using this molecular gastronomy starter kit. The kit comes with everything you'll need in order to create amazing dishes like chocolate spaghetti, and mint caviar beads.
Kick things up a notch this year and celebrate Pi Day in style by baking a delicious treat inside this pi pie pan. Thanks to this cleverly shaped anodized 3003-alloy aluminum pan you can make a delectable treat shaped equivalent to a nine inch pie.
Ensure your favorite vino is perfectly aerated when it's time to pour by placing it inside the belly of the Riedel boa decanter. The dazzling snake-like shape of this handmade decanter creates a double decanting effect so your wine is intensively aerated before drinking.
Finally, a wine glass that fits your needs! The BigMouth Inc Wine Bottle Glass is PERFECT for the wine snob in your life (even if it's yourself). It holds an entire 750mL bottle of wine-or just one serving *wink wink*.
What's the best way to top off an already perfect pizza meal? With this gourmet chocolate pizza of course! This sugary seven inch wide dessert is made with rich Belgian chocolate, brownie and fudge morsels garnished with white chocolate shavings.
Scare the hell out of your guests with these terrifying "You Have Just Been Poisoned" glasses. Perfect for serving drinks to people you secretly hate, or for just playing pranks on friends, the "You Have Just Been Poisoned" glass has a variety of evil applications.
Give your taste buds a nice little kick during snack time by munching on these Ghost Pepper gumballs. Each bag comes filled with 25 large cinnamon flavored gumballs with a sour coating made with real Ghost Peppers that are well over 1 million Scoville heat units.
Start your day off right by setting the tone with the "Get Sh*t Done" coffee mug. This matte finished coffee mug is reported to increase productivity by an astounding 200% while reducing time spent looking at pictures of cats on the internet by a respectable 22.73%.