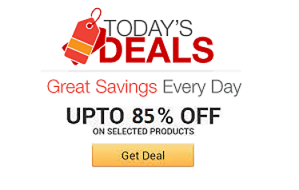 Find the coolest stuff at the lowest prices by browsing Amazon's incredible daily deals! You'll surely save a lot!
Send your taste buds into ecstasy by biting down on a savory homemade poop swirl cookie. With this easy to use cookie cutter you'll be able to create dozens of tasty poop swirl shaped cookies without hurting your hands thanks to the comfortable rubber grip.
Get the energy and focus you need to tackle your day by filling your mug up with this mushroom coffee. This tasty vegan-friendly blend combines rich coffee with Cordyceps and Chaga mushrooms for higher levels of energy and stamina.
BevStow creates additional storage capacity by horizontally attaching directly under any glass refrigerator shelf with super strong suction cups. It solves the problem of wine bottles rolling around in the refrigerator or not fitting in the door.
Prevent your lunch from being stolen with this fake mold anti-theft lunch bag. The bag has a design that makes it look like your perfectly good sandwich is actually ridden with mold. With the exception of public hangings, this is the best way to deter office thieves.
Make your snacks look more appealing than ever by dumping your chips inside the Nachosaurus. Modeled after a Stegasaurus, this eye-catching ABS plastic dip and snack dish can be utilized for anything from chips and popcorn, to french fries and hard shell tacos.
Save yourself a morning of agony after a fun night of punishing your liver with the Morning Recovery hangover cure drink. This vegan-friendly life-giving elixir contains a blend of ingredients designed to aid in detoxing your body so that you can rebound faster.
Optimize your daily performance with some TruBrain nootropic drinks. Made by a team of UCLA-trained PhD neuroscientists, each 1 oz. shot contains a blend of nutrients and nootropics designed to help you overcome mental blocks and boost mental endurance.
Barista Tested, Barista Approved. The KRUVE Sifter brings competition-level coffee quality to the home brewer. With two tiers and up to twelve interchangeable sieves, it can make any coffee taste better, regardless of the brew method.
Enjoy delicious and refreshing smoothies and milkshakes on demand by whipping them up using this slushie shake maker. It allows you to conveniently prepare smoothies, shakes, slushies, and even frozen cocktails in mere minutes.