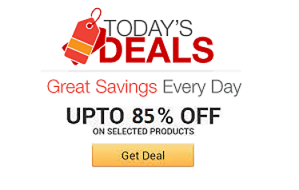 Find the coolest stuff at the lowest prices by browsing Amazon's incredible daily deals! You'll surely save a lot!
Handle any cocktail request that comes your way like a pro by keeping this 10-in-1 vintage oak bar tool by your side. It features an elegant oak handle and a convenient pocket-knife-like design equipped with all the essentials like a muddler, jigger, and strainer.
Unleash your deadly inner warrior as you wield the Damascus steel sword. Expertly forged from Damascus steel, this noble weapon stands as a testament to the superior and timeless quality of ancient Chinese sword forging techniques.
Add some nautical flair to everyday tasks by performing them using these whale shaped knives. The chin of each Shiroko high-carbon whale is designed as the sharp blade while the whale's ample body serves as the sturdy handle.
Ensure you're never caught unprepared by keeping the Gerber Ghoststrike fixed blade knife handy. Expertly crafted from 420HC steel with a black ceramic coating, this American-made knife features a compact skeletal frame that can be discreetly carried.
Dip your feet into the world of photography without draining your savings on professional equipment by opting for the make your own camera kit. It comes with everything you will need in order to craft yourself a fully functional 35mm SLR camera - complete with 2 lenses.
Feel safe when you're strolling down the mean streets by strapping on this pepper spray bracelet. This handy accessory can be used up to three feet away and features a sleek and slim minimalist style that's discreet and comfortable!
Make your daily commute a bit more bearable by giving yourself a luxury shiatsu massage while stuck in soul crushing bumper to bumper traffic! This shiatsu pillow massager is equipped with powerful 3D deep kneading massage nodes that perfectly contour to your body.
Keep a trusty utility bade on you at all times by attaching this Zip Blade knife to your keychain. This ultra-portable knife comes with a frame lock safety function, a zipper attachment for everyday carry, and a razor sharp stainless steel blade measuring .68 inches long.
Relieve stress while infecting yourself with one of these disease stress balls. Available in a variety of infectious diseases like small pox, the zombie virus, and the bubonic plague, each ball will erupt into painful blisters with every squeeze.