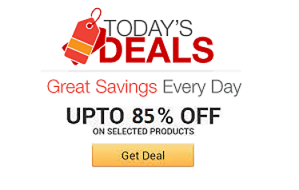 Find the coolest stuff at the lowest prices by browsing Amazon's incredible daily deals! You'll surely save a lot!
Ensure your work area is properly illuminated when you're on the job by having this rotating clamping worklight by your side. The head rotates 360 degrees while pivoting 90 degrees so that you can direct the light to precisely where you need it.
The folding yard wheelbarrow provides all the advantages of a traditional wheelbarrow while taking up a fraction of the space. It's equipped with a heavy duty vinyl coated nylon surface that allows you to quickly fold it for easy storage.
Keep your home's fly levels at an all time low by capturing these pesky insects using this revolving fly trap. Simply fill the trap up with the high-efficiency trapping food and watch as these winged unwanted guests blissfully fly to their final destination.
Mininch is the mini tool pen that should be in everyone's everyday carry. Crafted from aircraft grade aluminum, it features a slim and compact design that fits comfortably in your pocket and comes with 16 varied bits containing everything from flathead bits to square and star bits.
Keep your ride squeaky clean with this car washing foam cannon kit. The kit allows you to give your vehicle a thorough and professional touch-free cleaning to reduce the chances of creating swirl marks and scratches.
This flexible EZ reach straw makes spraying WD-40 in hard-to-reach places more convenient than ever. This sturdy eight inch long hose can be positioned in virtually any angle and can either be set to a steady stream or spray depending on the cap's placement.
Who says a high quality security camera has to break the bank? With its 110 degrees per second rotation speed, 360 degrees horizontal range, and 93 degrees vertical range, Wyze Cam Pan delivers 360 degrees coverage for a fraction of the price of a traditional premium security camera!
Keep yourself from becoming the main course at the blood buffet without having to get all sticky from sprays by using this mosquito repellent device instead. It's virtually odor-free, runs silently and creates a fifteen foot zone of protection against bugs.
It's now possible to go diving without having a mountain of heavy equipment weighing you down thanks to this portable hand pumped refillable scuba tank. It can easily be refilled with a hand pump and provides up to 10 minutes of fresh air on demand.