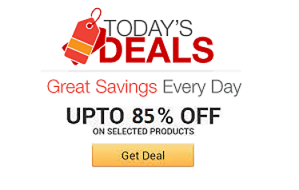 Find the coolest stuff at the lowest prices by browsing Amazon's incredible daily deals! You'll surely save a lot!
Carry your newly born baby with ease thanks to the Peekaru hands free baby carrying jacket. The Peekaru is a cool gift idea for parents who live active ...
Dine like a gentleman even when in the middle of nowhere by bringing this titanium 3-in-1 camping utensil along for the ride. The ergonomic design fits a ...
Fill your evening with magic and whimsy as you illuminate the night sky with these fun to use sky lanterns. Perfect for any celebration, these flame ...
Upgrade your dinky, weak human fingers with the mighty dragon claw ring to experience the power of having a 2' stainless steel blade affixed to your ...
Ensure fellow party goers end up rip roaring drunk at your next water themed soirée with help from the inflatable beer pong table. This five foot long table ...
Set the night sky ablaze with a beautiful light spectacle as you release the eco colored wish lanterns. Upon lighting these pastel colored wish lanterns ...
Jam out to your favorite tunes like a true musician with the mini amplifier speaker. This ultra-portable speaker trumps your iPhone's dinky speaker and ...
Shovel your driveway in record time with the wheeled snow shovel. Thanks to a sturdy wheel built into the frame, you'll be able to scoop up large amounts of ...
Cramming for the big test has never been easier thanks to this three way tip highlighter. Available in a variety of vibrant colors, it comes with a uniquely ...