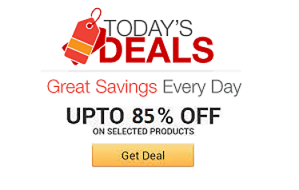 Find the coolest stuff at the lowest prices by browsing Amazon's incredible daily deals! You'll surely save a lot!
Conceal your top secret messages from nosey strangers by writing with these blacklight markers. Under regular light the ink from the marker remains ...
Stop spilling your drink like a sloppy drunk during your next drinking binge by wearing with this wine glass holder necklace. A sturdy neoprene case nestles ...
Prevent having dirty dog prints all over your clean floor with the dog paw wash tool. This painless yet extremely effective device works by simply placing ...
Jot down important information at a moment's notice while sporting the wearable dry erase board wristband. This virginity protecting accessory wears like a ...
In the show Man vs. Wild, Bear is put in extreme situations with little tools to survive the wilderness except his survival skills. You, however, are not ...
Roughing it in the great outdoors just got a bit easier thanks to the pop up tent. This quality tent comes preassembled and pops open in a snap, leaving you ...
Keep your hands looking clean and fresh at all times by using this 'Cleaner Than Shit' hand sanitizer. No matter how much shit the day throws your way, just ...
Bring military precision to operation 'Enduring Offspring' with the military diaper backpack. Decked out in full digital camouflage, the diaper bag ...
There will be no need to brush up on survival skills before venturing to the great outdoors as long as you make sure to pack the stove in a can - it'll take ...