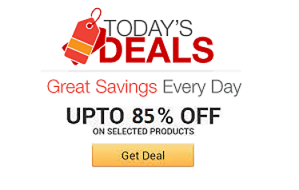 Find the coolest stuff at the lowest prices by browsing Amazon's incredible daily deals! You'll surely save a lot!
Now you can hollow out a strawberry with ease thanks to this amazing strawberry hollowing tool. Perfect for prepping strawberries for a multitude of dessert ...
Quit waiting for your hands to evolve into giant shovels so that you can build that mega sand castle you've always been dreaming of making. These hand ...
Now you can easily slip these covers on your cleated shoes and avoid dirtying/damaging your floors. Whether you're wearing baseball, soccer, or even golf ...
Now you can neatly place everything - from groceries to purses to clothes - in your car using these multi-purpose headrest hooks. Crafted from durable ...
BBQs are serious business - with the modular tactical grilling apron you'll be able to configure a variety of different MOLLE attachments so you can carry ...
Eat sushi like a Samurai Warrior with these highly detailed miniature samurai sword chopsticks. These fully functional chopsticks are a great gift for ...
Perform any random task the day throws at you with the greatest of ease using this Leatherman style multi-tool. This handy tool will fit comfortably in your ...
Throw out those obsolete bulky baskets and get serious about your outdoor dining with this picnic backpack. It includes everything you need for a superb ...
Keep your eyes on the road, look out for tailgaters, and navigate all at the same time with the touchscreen rear view mirror with a built in GPS navigation ...