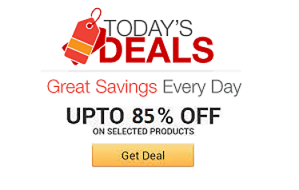 Find the coolest stuff at the lowest prices by browsing Amazon's incredible daily deals! You'll surely save a lot!
Cut your drive time in half by weaving through traffic with ninja-like precision using this Japanese katana shift knob. Intricately styled to resemble the elaborate hilt of a traditional Japanese sword, it makes a great accent piece for any hot import.
Stop wasting time and energy with traditional hand pumps - the quick Co2 bike tire inflator can do the same job in mere seconds with minimal effort! It boasts an insulating sleeve and a simple 1-turn valve system that allows for ultimate precision.
Transform your desk or workstation into the ideal location for a little fiesta using this sound responsive party ball. This mini USB powered sphere creates a mesmerizing light show that moves to the beat of the music for an incredible and immersive experience.
Spark up in a more eco-friendly manner with the Tesla coil arc lighter. Instead of producing a flame, it utilizes intense heat to light up your cigarette and can conveniently by recharged at any outlet via the built-in USB slot located at the bottom of this sleek lighter.
Transform your home's ceiling into a star filled sky any day of the year using this home planetarium star projector. It boasts ultra-bright 3-watt white technology that allows it to project a myriad of 60,000 stars onto your ceiling or wall.
Increase your chances of survival in the great outdoors by packing along this military folding shovel multi-tool kit. Forged from heat-treated solid carbon steel, this nearly indestructible tool can be used for tasks like digging, chopping, peeling, cutting, and sawing.
Help your clothes and shoes smell their best with these antimicrobial odor eliminators. These handy little capsules help absorb odors while preventing the growth of odor causing bacteria as well as acting as a drying agent when placed in damp shoes.
The Aquabot is not your standard water bottle. This pressurized battery-free device offers three distinct spray settings that allow it to either fire a stream of water up to 25 feet like a super soaker water gun, provide a cooling mist, or function as a handy shower stream.
Exact revenge in the most glorious way imaginable by bathing your enemy in glitter using the spring loaded glitter bomb. Designed to look like a standard postal package, it comes with a built in spring mechanism that violently shoots glitter everywhere upon opening.