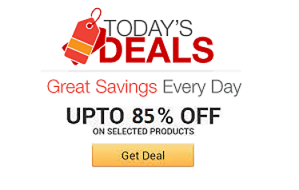 Find the coolest stuff at the lowest prices by browsing Amazon's incredible daily deals! You'll surely save a lot!
Relax, stretch, and rejuvenate your neck and shoulders anytime, anywhere with the neck hammock. It sports two medical grade adjustable straps that you can conveniently hang on any door so that you can get quick neck and back relief!
Make any room in your home come to life by creating some eye-catching ambient lighting by putting together your very own puzzle light. Each kit comes with 30 individual pieces that you can assemble to 1 of 15 possible lamps designs.
Slice through envelopes, tape, and other everyday objects with warrior like ferocity with one of these folding pocket samurai knives. They feature an aircraft grade aluminum body and a razor sharp 440c stainless steel tanto blade complete with a Japanese engraving.
Feel like a mighty Nordic warrior by grabbing a hold of this intimidating hand forged steel viking axe. These axes are expertly made in the Ukraine without the use of any CNC machines or other modern day tools - guaranteeing that each piece is truly one-of-a-kind.
When you gotta go, you gotta go. With this reusable portable travel urinal you'll be able to do just that - even if there's no bathroom in sight. It features a shrinkable design for easy transport and can extend to hold up to 750 mL of liquid.
Keep your noggin from bobbing around while you try to catch some z's with the Cardiff travel headrest. It conveniently attaches to your ride's headrest with a simple mount to provide lateral support so that your head stays upright while you sleep.
Customize almost any item on the spot using the Cubiio compact laser engraver. This compact little cube is controlled wirelessly through the accompanying app using your smartphone and can engrave all types of surfaces like felt, leather, wood, paper, and cardboard.
This quick cutting fishing line ring is a fisherman's best friend. This handy little accessory comes fitted with an adjustable strap so that you can wear it on any finger and sports two razor-sharp stainless steel blades that can quickly and easily cut a 200 pound braided line.
Logitech is looking to make your mouse using experience as comfortable as possible with their innovative vertical ergonomic mouse. The bold design places your hand at a unique 57-degree vertical angle - mimicking a natural handshake position.