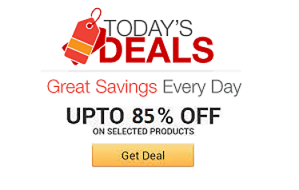 Find the coolest stuff at the lowest prices by browsing Amazon's incredible daily deals! You'll surely save a lot!
Learn to wail like a rock god without taking professional lessons by using this guitar learning LED display system. This ingenious app-assisted device fits on your guitar's fret and projects colored dots that will teach you proper finger placement for your favorite songs.
Ensure your home looks spic-and-span at all times by placing the brand new Roomba i7+ robotic vacuum on the job! This revolutionary device automatically empties itself when it docks at the base and features improved home mapping for more efficient cleaning.
Keep cash and credit cards handy at all times by storing them inside this belt buckle wallet. This fashionable accessory will securely store up to five cards and IDs - making it the perfect gift for those who hate traditional bulky wallets.
Eliminate internet dead zones in your home once and for all by upgrading to the Google Wi-Fi mesh network kit. It's easy to install, will work with your existing internet service, and will provide seamless Wi-Fi coverage throughout your entire home.
Show your hard working feet some love by pampering yourself with this dual foot massager roller. This soothing roller is designed to help relieve arch pain as well as plantar fasciitis and features a compact size so that you can take it virtually anywhere.
Make it easier on yourself this coming winter by throwing out your old shovel and upgrading to this rechargeable electric snow shovel. This cord-free device features a 2-blade paddle auger that will efficiently clear snow and throw it up to 25 feet away.
Get a glimpse into the innards of what a pokeball really looks like by getting your hands on one of these crystal engraved pokeballs. The laser etched crystal ball showcases a miniature Pokemon that colorfully comes alive once the LED is turned on.
Get amazing aerial footage that no other action cam will match by capturing the shot with this throwable 360 degree action cam. It boasts twin ultra-wide lenses and omnidirectional image stabilization, captures video in 5.7K at 30 fps and has 2 slow motion modes.
Launch face-melting bursts of flames that'll leave your audience in awe using this open hand fireball launcher. Made with discretion in mind, the compact size makes it easy to conceal and it can also shoot up to two fire balls simultaneously.