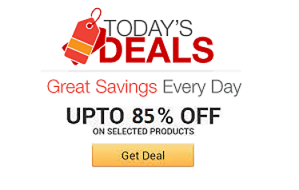 Find the coolest stuff at the lowest prices by browsing Amazon's incredible daily deals! You'll surely save a lot!
Give your outdoor excursions a rocking soundtrack by blasting your music from the ultimate outdoor/portable speaker. This rugged waterproof speaker provides superb sound, over 50 hours of rechargeable battery life, and comes with a handy 360 degree light.
Nourish your skin while giving your bedroom some cool ambient lighting with this light bulb USB humidifier. This small desktop humidifier is outfitted with a tiny LED that lets you choose from seven different colors - yellow, orange, red, purple, blue, green, or indigo.
Keep hackers from invading your privacy by covering and locking your electronic device's mic port using Mic-Lock, the microphone sound blocker. Simply plug it into the mic port and it will become the default mic and will prevent any audio from being transmitted.
Treat onlookers to a mini magic show by whipping out the fire wallet magic trick. This synthetic PU leather wallet comes outfitted with a small fire cloth that burns for a few seconds when the wallet is opened and extinguishes once it's closed back up.
If you're headed to the great outdoors for a little camping or hiking, make sure to strap on this tactical flashlight wristwatch. This rugged waterproof watch features a clear LED display and comes with an on-board compass and bright flashlight that is great for nighttime use.
Give your paintball team the cover it needs to secure victory by using these colored smoke grenades. Designed for all types of combat sports, they're available in seven different colors and are designed to burn for a 90 second period.
If you're heading into the great outdoors, this weatherproof portable power bank is your key to keeping your electronics juiced up. This sleek and compact 2600mAh stainless steel device comes with 10 watt hours of power and 1 Amp USB output.
Stay connected and informed in the event of mass power outages using this solar crank emergency station. It can be charged either using the hand crank, a micro USB, AAA batteries, or the trust ol' sun. It also comes with a handy built-in flashlight ideal for nighttime use.
Fix anything that pops up during your day by keeping this 7-in-1 screwdriver pen multi-tool handy at all times. It features a sleek and ultra portable design and comes with seven useful tools that include everything from a smartphone stylus to a Phillips/flathead screwdriver bit.