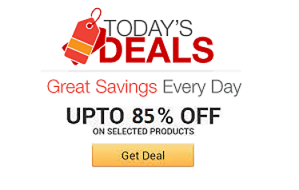 Find the coolest stuff at the lowest prices by browsing Amazon's incredible daily deals! You'll surely save a lot!
Use your smartphone to see what's behind your car by mounting the ZUS smart rear view camera to your ride. This weatherproof camera installs without needing any drilling or wiring and gives you a 170 degree wide angle view that lets you see everything - day or night.
Quit scooping out nasty lumps of cat poop once and for all by using the Luuup litter box. The brilliant design utilizes three identical trays that you stack on top of one another to create a perpetual sifting loop that makes clean up a breeze.
Break down language barriers when travelling abroad using this smart international language translator. This handy two-way device will recognize what you say and instantly speak out loud the translation so that you can effectively communicate with the locals.
Conveniently transport all your fishing gear using only one hand with the Rod-Runner pro fishing rod rack. This hardened ABS plastic rack can easily carry up to 5 rods without tangling your lines, breaking guides, or damaging your equipment or reels in any way.
Tired of hitting golf balls with your club? Send balls soaring through the air in an entirely new way by launching them out of the golf ball cannon! This black powder cannon features a 1018 steel barrel, brass hardware, and sits on an elegant oak carriage.
Keeping tabs on your daily physical activity is simpler than ever with WELT - the smart fitness and activity tracking belt. This stylish high-tech accessory comes with built-in sensors that measure your physical activity and then relay the info to your phone via Bluetooth.
Step up your selfie game by ensuring you always have the perfect lighting with this LED iPhone case. Available in a range of shades that include black, pink, and mint, each case comes with a built-in LED strip around the edge to provide extra lighting when you need it.
This portable compact LED solar lantern is a must-have for anyone who loves spending time outdoors. Weighing a mere 2.6 ounces, this ultra lightweight lantern folds flat for easy storage, has a 12 hour battery life, and is bright enough to light up a 100 square foot room.
Save a bundle on roaming fees while you travel around the world by staying connected using the global WiFi hotspot device. It requires no embedded SIM card, simply switch it on and enjoy surfing the web in over a hundred different countries at discounted rates.