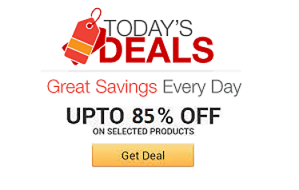 Find the coolest stuff at the lowest prices by browsing Amazon's incredible daily deals! You'll surely save a lot!
Spend the day outdoors without succumbing to the smothering heat by bringing along this portable air conditioner. Apart from offering three fan speeds and cooling settings, this handy unit comes with a built-in nightlight, speaker, and charging station!
Improve your overall gaming experience by upgrading to the Razer Huntsman Opto-Mechanical keyboard. This innovative model features opto-mechanical key switches that can provide up to 30% faster response and function during gameplay.
No wall outlet in sight? No problem! With Goal Zero's solar powered briefcase you'll be able to keep your devices juiced up no matter where you are. It boasts 100 watts of highly-efficient waterproof monocrystalline solar cells, and it folds in half for easy transport.
Escape from the stress of everyday life using this noise blocking personal zone creator. It easily sticks onto any desk or window and utilizes anti-vibration technology to block off nearby vibrating objects to create a bubble of serenity.
Add a dash of adorable to your boring workstation by storing your pins inside this cute little sheep push pin holder. This small little sheep comes with 75 white head push pins that will masquerade as the sheep's wool when they're not in use.
This revolutionary fitness accessory is the pinnacle of gym towel engineering. It features a magnetic clip, universal zipper, 4" x 15" pocket, a touch sensitive mesh, anti-fall sleeve, and even a gym-side / skin-side so you can only let your skin touch one side of the towel.
Stay cool while Mother Nature tries to suffocate you with her warm embrace by using this bucket top misting fan. It comes with an 18-volt lithium-ion battery, and it can be operated with either a garden hose or with a bucket filled with water.
Avoid serious injury while doing handywork around the house by placing the ladder stabilizer underneath your ladder. This versatile all-terrain tool is crafted from 14 gauge powder coated steel and fitted with durable nylon straps to secure the ladder in place.
The iPhone stun gun case is the only case on the market that doubles as a personal bodyguard. Apart from protecting your treasured iPhone, the case comes with a built in stun gun capable of delivering up to 7,000,000 volts of knockout power to an assailant.