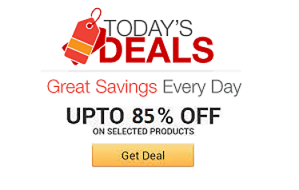 Find the coolest stuff at the lowest prices by browsing Amazon's incredible daily deals! You'll surely save a lot!
Help your clothes and shoes smell their best with these antimicrobial odor eliminators. These handy little capsules help absorb odors while preventing the growth of odor causing bacteria as well as acting as a drying agent when placed in damp shoes.
The Aquabot is not your standard water bottle. This pressurized battery-free device offers three distinct spray settings that allow it to either fire a stream of water up to 25 feet like a super soaker water gun, provide a cooling mist, or function as a handy shower stream.
Exact revenge in the most glorious way imaginable by bathing your enemy in glitter using the spring loaded glitter bomb. Designed to look like a standard postal package, it comes with a built in spring mechanism that violently shoots glitter everywhere upon opening.
Handle any cocktail request that comes your way like a pro by keeping this 10-in-1 vintage oak bar tool by your side. It features an elegant oak handle and a convenient pocket-knife-like design equipped with all the essentials like a muddler, jigger, and strainer.
Unleash your deadly inner warrior as you wield the Damascus steel sword. Expertly forged from Damascus steel, this noble weapon stands as a testament to the superior and timeless quality of ancient Chinese sword forging techniques.
Add some nautical flair to everyday tasks by performing them using these whale shaped knives. The chin of each Shiroko high-carbon whale is designed as the sharp blade while the whale's ample body serves as the sturdy handle.
Ensure you're never caught unprepared by keeping the Gerber Ghoststrike fixed blade knife handy. Expertly crafted from 420HC steel with a black ceramic coating, this American-made knife features a compact skeletal frame that can be discreetly carried.
Dip your feet into the world of photography without draining your savings on professional equipment by opting for the make your own camera kit. It comes with everything you will need in order to craft yourself a fully functional 35mm SLR camera - complete with 2 lenses.
Feel safe when you're strolling down the mean streets by strapping on this pepper spray bracelet. This handy accessory can be used up to three feet away and features a sleek and slim minimalist style that's discreet and comfortable!