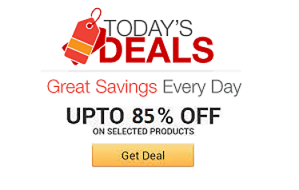 Find the coolest stuff at the lowest prices by browsing Amazon's incredible daily deals! You'll surely save a lot!
Enjoy a high energy boxing styled workout virtually anywhere by setting up this doorway mounted punching bag. It sets up in as little as 60 seconds and features a space-saving design that functions more like a double-end bag than a heavy bag.
Introducing a new groundbreaking accessory for the wireless earbud user - WIRES! This revolutionary system will securely fasten your AirPods on each mount to ensure they remain by your side at all times - it's a wonder nobody ever thought of this before!
Ensure your sprawling yard stays picture perfect year-round by placing this robotic lawnmower on the job. Perfect for all garden types, this helpful little emission-free robot's cutting height can easily be adjusted from .7 to 2 inches and works in rain or shine.
Make the art of writing more enjoyable than ever by swapping out your traditional straight body pen for this ergonomic ring pen. The unique design allows for maximum comfort while writing and also helps to reduce fatigue from prolonged use.
Place a big old smile on your favorite knife enthusiast's face by surprising them with the CRKT snap lock folding knife. It features a razor sharp drop point shaped blade that rotates outward for easy opening along with a snap lock mechanism that effectively secures the blade.
If those dinky pocket stun guns just aren't cutting it for you, feast your eyes on this 5 million volt stun gun flashlight baton. This potentially life saving weapon comes with a bright CREE light bulb at the tip and is cable of putting out a stunning 5 million volts!
Ensure you're heard - no matter where you are - by blowing on the world's loudest whistle. This heavy duty whistle outputs an eardrum-shattering 142 decibel ring that's over 8 times louder than common sports whistles and can be heard from over 2 miles away.
Create your own eye-catching 3D holograms using this smartphone hologram viewer. With this compact device and the accompanying app you'll be able to create and watch your very own 3D holograms simply by placing the device over your smartphone's screen.
The inflatable motorized Stingray water board delivers all the fun of a stand up paddle board without the tiresome paddling part. It's powered by a compact 12 volt battery, has a 200 pound capacity, and features a 6 inch thick bottom PVC layer for added durability.