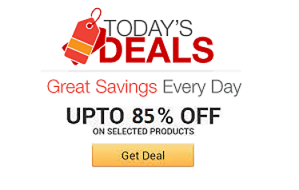 Find the coolest stuff at the lowest prices by browsing Amazon's incredible daily deals! You'll surely save a lot!
Ensure you're never left without power, even if you're miles away from civilization by plugging your devices into this portable off-grid solar generator kit. It can either be charged by solar or AC power and features everything from DC to USB ports.
Increase your productivity by creating projects and reports in record time the Scanmarker digital highlighter. Simply slide this handheld scanning pen across a line of printed text and watch it appear instantly on your computer screen!
Studies have shown that phones typically have 18 times more harmful bacteria than any surface in a public bathroom. This unique device charges your phone while utilizing UV lights to kill up to 99.99% of bacteria off of your phone's surface.
Monitoring your home's solar energy production is as easy as checking your smartphone with this real time electricity usage monitor from Sense. It allows you to easily see how much electricity is being produced and used in your home at any given time.
Spread the wealth like a true baller by showering everyone with the Make It Rain money shooter. Apart from helping you share your hard earned cash with others, this battery operated party must-have also works with coupons, business cards, playing cards, and more!
Help keep your valuables safe while you're out and about by packing your gear inside the anti-theft backpack. It's designed with a thick cut-proof material and contains secret pockets and hidden zippers to deter would be pick-pockets.
The emergency heat and light candle is the versatile survival tool you can't afford not to pack on your next outdoor excursion. Apart from a stable light source, this compact 13.5 oz soy wax candle provides soothing heat when you need it most and will burn for 75 hours.
Transform any scenic spot at the park into your own personal gym with this portable pull-up and dip bar. This versatile piece can either be mounted onto a wall or tied to the trunk of a tree in order to provide you with a sturdy pull-up bar or a stable dip station.
Mesmerize your eyes by staring at the incredibly smooth movements of this precision balancing gyroscope. It features a sturdy yet lightweight aluminum frame, boasts a 12,000 rpm electric motor and comes with interchangeable attachments.