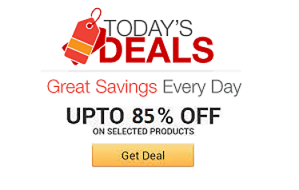 Find the coolest stuff at the lowest prices by browsing Amazon's incredible daily deals! You'll surely save a lot!
Now you can train Rover to intelligently notify you when he needs to go pee outside by installing this smart doggy doorbell. This water resistant doorbell conveniently installs using an adhesive strip and can be customized to the volume and ring tone of your choice.
Illuminating the dark parts of your closet is more convenient than ever when you hang up these illumined clothing hangers. They feature an elegant copper-like finish and provide a helpful light that emits a soft white glow, also making it great for providing ambient lighting.
The zero gravity massage chair delivers a luxury relaxation experience unlike any other. This high-tech chair boasts a computer body scan system and features heated pads along with six different massage options that include kneading, rolling, and shiatsu.
Keep a steady supply of fresh and zesty herbs on hand using the Grow And Serve microgreen kit. The kit includes everything you'll need to conveniently grow your own herbs from the comfort of your kitchen's window, making it ideal for homes with no yard space.
Keep your kitchen organized while you cook by slicing and dicing on top of this bamboo cutting board with trays. It comes fitted with a series of transparent drawers that pull out from underneath so that you can easily slide your chopped up ingredients inside.
Turn holiday traditions on their head by turning heads with the upside down artificial Christmas tree. This stunner stands at 7 feet, features a nice full shape, and is composed of 100% PVC needles that give it a natural appearance.
Celebrate the holidays Griswold style by placing this National Lampoon's Christmas vacation village on display. It depicts iconic and hilarious scenes from the beloved holiday flick such as Clark's electrocution and cousin Eddie emptying the shitter.
Turn your home into an impenetrable fortress by upgrading to the Haven smart door lock. This reinvented smartphone connected lock is crafted from steel, glass reinforced nylon and aluminum to keep out any and all intruders using an anchored deadbolt-like system.
If you're not a big fan of the holiday season, this "meh" Christmas tree ornament is a perfect fit for your tree. This not-so-festive bauble features an opaque black design accented by the word "meh." written in big white letters - perfect for blandly expressing your holiday joy.