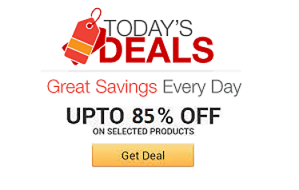 Find the coolest stuff at the lowest prices by browsing Amazon's incredible daily deals! You'll surely save a lot!
Now you can eliminate foggy bathroom mirrors using wiper technology akin to what your car's windshield uses. The foggy mirror wiper is perfect for when you ...
Wake up like movie stars do when you awaken to the pleasant beeping of the movie slate digital alarm clock. This novelty clock looks great whether set on a ...
Give your home an artsy modern studio feel by illuminating it using this unique desk lamp chandelier. With an intrepid design that borders between abstract ...
Never lose your keys when you get home with these human key holders. These hilarious and useful key holders work by storing your keys in the 'human' area so ...
Get ready for the ultimate lounging experience - this inflatable sofa combines pool lounging with couch lounging. Slap on some sunscreen, turn up your ...
Get organized with your drinking addiction. The grip on this unobtrusive piece of genius allows you to stack up bottled and canned beer in a neat little ...
Avoid splashing and spilling the contents of your kitchen pots all over the counter by pouring it using the slip-on silicone spout. This heat resistant ...
Help bring your home into the 21st century by installing the LCD door peephole. This high tech peephole utilizes a small LCD screen to let you clearly see ...
Add a real foosball table to your home without making it look like a total bachelor pad with this foosball coffee table. This furniture grade coffee table ...