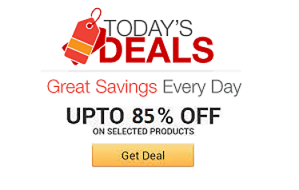 Find the coolest stuff at the lowest prices by browsing Amazon's incredible daily deals! You'll surely save a lot!
Do you hate instantly knowing what time it is? Worry not fellow mathletes, the math clock is here to help! This math clock is a great gift for math ...
You won't find a more qualified person to plug your tub than the scuba diver bathtub plug. Tethered to your plug, the adventurous scuba diver remains ...
Turn your snow friend from an amorphous blob into a lovable Frosty-like character using the dress a snowman kit. The kit can be used year after year and ...
Look out there's an oddly colored monster in your room! This flexible monster lamp is a great gift for any kid with a strong imagination and adds ...
Pay homage to one of mankind's greatest feats with the astronaut chandelier in your home. Great for children, it lets their imagination soar while providing ...
The steampunk telephone is a fully functional die-cast home telephone that will add character to even the dullest looking living spaces. Equipped with ...
Light up your home with these coiled wax candles that will burn for 144 hours and will auto-extinguish themselves - making them safer than your traditional ...
Brighten up a loved one's already special day by upstaging the cake with the ultimate birthday cake candles. Upon being lit, the candle blooms to reveal two ...
Light up those hard to reach places with ease by sticking one of these magnetic flashlight mines. The flashlight's cleverly built frame comes equipped with ...