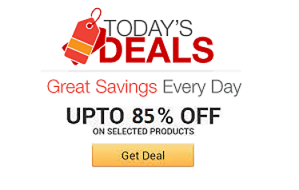 Find the coolest stuff at the lowest prices by browsing Amazon's incredible daily deals! You'll surely save a lot!
Real men carry their groceries in one trip - and now with this clever one trip grocery bag holder you can make that single trip even easier. Simply hook the ...
Project an awe inspiring double rainbow anywhere in your home with this rainbow light projector. Perfect for brightening up a kid's room with a beautiful ...
Now you can make a fun game out of your verbally abusive family members with this carnival dunk tank. Simply place the insulting person into the carnival ...
The lasers stars projector makes it possible to gaze at the wonder of the cosmos whenever you wish. The projector places the stars at your fingertips by ...
Escape the dull and monotonous glow of your office's fluorescent lights with the faux sky light diffusers. These cheerful panels display pleasant images of ...
This refined wood litter box cabinet provides a discreet spot for your feline friend to do his business without taking away from your home's elegant decor ...
These ninja rubber duckies pack a punch with any ancient Japanese bathroom decor scheme. Designed to look like rubber duckies gone ninja bad, you can pit ...
Bulky chargers won't clutter your outlets anymore when you install these rotating wall outlets. These innovative wall outlets properly cater to your modern ...
Science, bitch! This nostalgic electricity ball combines captivating art with simple science to create a fun, interactive, and mildly educational toy ...