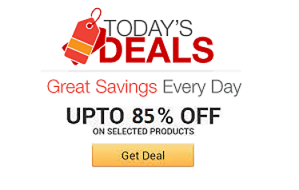 Find the coolest stuff at the lowest prices by browsing Amazon's incredible daily deals! You'll surely save a lot!
Create a storybook pathway in your garden or backyard with help from the cobblestone forming mold. This great DIY tool is great for all skill levels and ...
Experience the joy of watching your vegetables grow with this viewable root garden. This kid friendly kit includes everything you need to plant and observe ...
Crack your beer open right in the kitchen. The simple, sleek bottle opener fridge magnet is the perfect accessory for any fridge that holds beer. Never lose ...
There's no need to enter a sweepstakes in order to own the classy leg lamp from the beloved holiday film A Christmas Story. This stylish light fixture is a ...
Cool down while experiencing all the action of a dogfight every time you start the engine of the World War II airplane ceiling fan. The fan's creative ...
The runny nose yolk separator lets you make some delicious and healthy egg white omelettes while grossing out everyone around you. Once the eggs are poured ...
The modern glass cereal bowl gives you a first row seat to witness your crunchy cereal become a soggy mush. This glass bowl is dishwasher safe and sports a ...
With the netted cocooon hammock you can hang out in your backyard or in the wilderness without having mosquitoes invade your quiet personal space. The ...
Ensure your furry friend remains fully hydrated during the brutal summer heat with the automatic dog drinking fountain. Once installed, the fountain employs ...