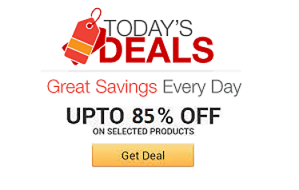 Find the coolest stuff at the lowest prices by browsing Amazon's incredible daily deals! You'll surely save a lot!
Ensure you always hit your mark during night time bathroom trips by outfitting your porcelain goddess with this motion sensing toilet night light. It can be set to one of eight colors and will light up for two minutes after sensing movement.
Enjoy the self-healing benefits of costly spa treatments like acupuncture and massages from the comfort of home by laying down on the bed of nails acupressure mat. The pressure of the rounded nails help the body release endorphins so that you feel calm and relaxed.
Ensure no villains or boogie men bother your little ones throughout the night by placing this Batman mask wall light on patrol. This wall mounted light creates the illusion that the Caped Crusader has busted through the wall to check in and keep a watchful eye.
Enjoy the majesty of a star-filled sky on a nightly basis by switching on this cosmos projector night light. It comes with three different lighting modes including a monochrome setting and colored setting that fills the room with brilliant hues.
Watch your garden take on an other-worldly appearance once these giant allium giaganteum flower seeds bloom. Upon blooming, the tall and sturdy green stock gives way to a cluster of small colored flowers that combine to form a giant and incredibly beautiful flower sphere.
Live cleaner by improving the air quality in your humble abode with the Airmega smart air purifier. This Apple and Android compatible appliance comes with a small sensor that informs you of the air quality in real time and can cover an area of up 1,256 sq. Ft.
Turn your lively flower into the focal point of your room by placing it inside this one of a kind self-watering fish tank flowerpot. The transparent design creates an eye-catching effect sure to spark up a lively conversation with all your guests.
Clean your dirty dishes in record time by slipping your hands into these sponge gloves. These durable latex gloves not only keep your hands clean and dry but turn each of your fingers into a bendable sponge that allows you to effectively clean every dirty nook and cranny.
Whether you're looking for a decorative touch or need a helping hand with your coffee mugs, this cast iron octopus table topper is here to help. Each one of this mollusk's curvy tentacles makes the perfect place to hang your coffee mugs or tea cups.