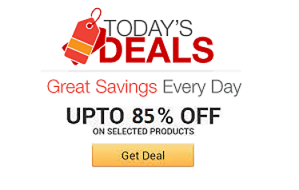 Find the coolest stuff at the lowest prices by browsing Amazon's incredible daily deals! You'll surely save a lot!
Add some charm to your man cave's bathroom by hanging this big old pair of door knocker balls outside the door. This hilariously designed door knocker comes with an adhesive backing for easy installation and is made from high quality PVC.
Treat your eyes to a visual masterpiece of brilliant color and crisp imagery every time you watch TV by upgrading to the Samsung wall blending QLED TV. It features an innovative ambient mode designed to blend in seamlessly to your home's decor.
Now you can drop f-bombs all day long and be commended for your organization and professionalism around the workplace with the f-bomb paperweight. Made from recycled steel, it's great for keeping memos neat and tidy on your desk.
Ensure those annoying little blood suckers leave you alone by sparking up this "die mosquitoes" citronella candle. Handmade in New Jersey, this sixteen ounce candle burns for over eighty hours and features an eye-catching "die mosquitoes" decal on the exterior.
Bring color and life into your home or yard - even if you're tight on space - by using this freestanding vertical planter garden. This weather-resistant garden comes with five sturdy vertical garden beds and features a cascading water drainage system.
Wave goodbye to nighttime aiming problems thanks to the glow in the dark toilet seat. It glows with the light of a thousand glow sticks so even if you're too drunk or tired to find the light switch cloaked under the dead of night, you'll still be able to take care of business.
This mosquito trapping and zapping vortex will ruthlessly decimate all pesky flies without harmful chemicals or sprays! Once the 368nm UV light lures the flies in, a 7-blade inner fan traps them inside where they meet their quick and untimely end.
Make your next soak more colorful and relaxing than ever by dropping in one of these giant bath bombs. Each set includes a dozen 5-ounce bombs that are handmade using all natural and organic ingredients that will smooth and moisturize your skin.
This pineapple fan is the perfect way to beat the summer heat! This amusing little fan features an eye-catching pineapple design and measures only seven inches - making it ideal for placing in virtually any part of your humble abode.