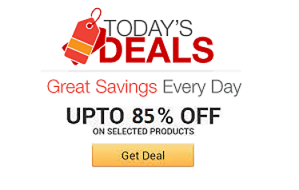 Find the coolest stuff at the lowest prices by browsing Amazon's incredible daily deals! You'll surely save a lot!
Make bedtime something to look forward to for your little munchkins by outfitting their comfy bed with this cozy privacy bed tent. It provides a super cozy environment as well as a little added privacy, making it great for college students living with roommates.
Clean up your yard in a fraction of the time by using this nut and golf ball collector for your fall chores. The simple yet functional design allows you to effortlessly pick up a large assortment of nuts, small fruits, and even golf balls without having to physically bend over.
Deter would-be criminals from burglarizing your humble abode by setting out this "nothing of value here" doormat. It'll send a clear message that your home isn't worth the effort - but hey maybe check out the Robertsons next door, they just got a new flat screen!
Add some out-of-this-world charm to your drab workspace by setting this Star Wars AT-AT tape dispenser on your desk. The clever design disguises this functional accessory to look like an AT-AT that's been taken down by Rebel scum!
Make your next DIY project go a little smoother when you need to level something heavy by placing this inflatable leveling tool on the job. This contractor-grade pump wedge can easily be operated with one hand and features a 300 pound load capacity.
These mini red bricks are pint-sized construction tools that you can actually use for building projects! Each set comes with thirty-two 1:6 scale red bricks that measure 1.33" x .66" x .66" - making them ideal for all types of fun and creative craft projects.
Lock and unlock your door with the tap of your finger by upgrading your home with this keyless entry door smart lock. This peek-proof Bluetooth enabled smart lock boasts an advanced capacitive fingerprint reader - ensuring that only physical fingers will be accepted.
Instantly create a discreet charging station anywhere in your home using this in-drawer charging outlet. This easy-to-install outlet features a slim design that'll fit most standard cabinet sizes so that you can charge up to four devices simultaneously.
Everyone hates mouth-breathers! So give your partner instant relief from your incessant snoring with this mouth breather tape. It covers your mouth shut for better nose breathing, less mouth breathing, and instant snoring relief so you can both sleep like newborn babies.