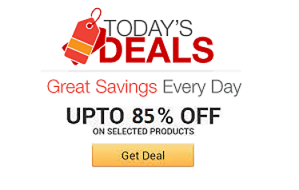 Find the coolest stuff at the lowest prices by browsing Amazon's incredible daily deals! You'll surely save a lot!
Sand castles seem to fall into two different categories: really freaking amazing and absolutely dreadful. Oh, you filled a bucket with sand and turned it upside down? Fabulous. And I don't know about you, but the really large scale projects are never spotted on my lazy beach days. These World Landmarks Sand Molds finally let regular folks who aren't down with baking in the sun all day, create something pretty cool. Kids and adults alike can explore design, angles and ancient architecture through some exciting sand play. The set includes the Parthenon, Taj Mahal, Mayan Pyramid, Pyramid and Colosseum.
Coloring is a lot of fun. It's also quite therapeutic. Since I'm terrible at coloring nicely, I prefer the books with extra large designs to fill in. If I was any good, I might appreciate Outside The Lines. It includes pages filled by over 100 of today's creatives including graphic artists, cartoonists, and street artists. It's up to you to fill them in. Contributors include artists you're probably familiar with (if you're into that kind of thing) like Shepard Fairey, Ryan McGinness, and Buff Monster.
We've seen those little green army men turned into break dancers, gummi candies, Walking Dead zombies, and even a fruit bowl! Now here they are as mini yogis. Yoga Joes is a set of 9 little green army men doing yoga poses like headstand, cobra, child's pose, downward-facing dog, and more. You can pick up a set of your own for just $25 over at Amazon. Namaste, you guys.
Help your active toddler move throughout the house with record speed with these anti-slip baby knee protectors. Available in a range of colors these unisex accessories feature a durable sole over the knees that helps keep the skin safe while providing extra traction.
Transform your little critter into a cuddly ape before bedtime using this kid's monkey sleeping bag. It features fully immersible and movable limbs for added comfort velcro tabs for easy access in and out and is designed to fit children up to sixty inches tall.
Keep your energetic kiddies from running wild while stuck indoors by setting up this children's indoor playground. It's designed to fit in between the floor and ceiling and comes with everything from monkey bars to rings and a swing.
CliniCloud set out to create a home medical kit for those with decidedly non-medical backgrounds. Its small zip-up pouch contains a non-contact thermometer and a digital stethoscope, both of which connect to an iOS or...
Either the Baby Shusher shhhhhhh-ing machine is a Nobel Prize-caliber invention, or the baby in that video learned in the womb how to be an Oscar-caliber actor. Arrrgh, that sound, that wailing. I can't think of a noise...
Expecting parents who want to trim the fat from ever-rising hospital bills now have the option to save over $2,000 if they are willing to trim the skin from their newborn sons. Created by Ezra Messer, a mohel with more...