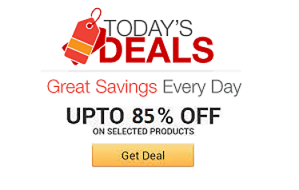 Find the coolest stuff at the lowest prices by browsing Amazon's incredible daily deals! You'll surely save a lot!
It looks good enough to eat, and in fact, someone did take a bite out of this hilarious Gigantic Donut Pool Float. At 4 feet tall, this donut is not only huge, but it is ...
Welcome to Capture the Flag REDUX, a gaming kit that uses LED lights to transform the classic outdoor game "Capture the Flag" into an after-sunset adventure. ...
Enjoy a refreshing drink or beverage while you're out on the water with the Mega Inflatable Floating Beverage Cooler. The Mega Chill floats along side you on those ...
Glow Golf Balls for night golf couldn't be more fun. It plays just like a regular golf ball and uses a jumbo 1.5" glow stick for extra brightness. Glow golf b...
Have you ever wanted to have a drink out in the outfield? Do you get thirsty watching a baseball game? Well we have the answer to give you the ability to carry drinks wit...
Military style Tactical Holster with Mag Pouches, Comfortable, no-hassle carrying for your automatic and the mags that keep it running! Heavy-duty nylon construction for ...
Etekcity Ultralight Camp Stove is the only ultra portable backpacking camping stoves with ignition.The included carrying case further adds to the portability as it can si...
Pursuit Bow Hunting Backpack bag is perfect for keeping your bow secure and stowed away when you're trekking through the fields and rugged terrain. Use this ALPS Mounta...
The glow bicycle wheel neon light bulb is simple to use, long lasting, and safety attached with an easy on and off can be installed in seconds before you get ready to rid...