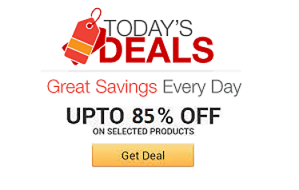 Find the coolest stuff at the lowest prices by browsing Amazon's incredible daily deals! You'll surely save a lot!
Create some laughs at your best bud's next birthday party by placing his actual gift inside this pet butler serving vest prank box. Each of the six sides comes printed with real graphics and jokes that are intended to make it look like a real product.
Keep your little furball in total comfort while they lounge around the house by getting them this comfy hot dog pet bed. This adorable little hot dog shaped bed sports two soft and fluffy bun cushions in addition to a removable and washable cushion.
Tearribles are the indestructible dog toys that your dog can tear apart over, and over, and over again without actually destroying them. Made from strong plush and durable mesh, they're designed with tear-away limbs that you can easily stick back on the dismembered body.
Tire out your energetic little pup without lifting a finger using this automatic tennis ball launching dog toy. It can be set to a throwing distance of either 10, 20, or 30 feet, making it a great training tool and recreational toy for dogs of all ages.
Keep your home clean and fresh when potty training your puppy by using this self-cleaning automatic indoor dog potty. It comes with built-in sensors that prevent the motor from running when your dog is on the potty and will automatically wrap and clear the pads afterwards.
Train your pup to ring a bell when he wants to go outside by placing this housebreaking dog doorbell on your doorway. This adjustable belt comes fitted with small yet loud bells that will jingle to notify you when your doggy has to go outside.
Purrfect Portal is the cat shaped kitty door that will give your indecisive feline friend the freedom of entering and exiting any room in your home whenever he wishes. Featuring a cute cat silhouette design, it's ideal for indecisive cats of all sizes.
Washing all the dirt and grime off Rover has never been easier than with the 360 degree dog washer. Simply add soap and connect to the hose and a string of water jets will wash every inch of filth off of your pup in less than a minute.
Enjoy hours of cute and adorably quirky dogs with the pug mugshot book as your coffee table's centerpiece. It features page after page of mugshots portraying these oddly appealing pups placed in all types of scenarios along with witty captions.