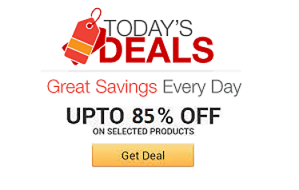 Find the coolest stuff at the lowest prices by browsing Amazon's incredible daily deals! You'll surely save a lot!
Transform regular ol' marshmallows into fluffy projectiles of mayhem by launching them out of the extreme marshmallow blaster! This compact blaster lets you shoot regular sized marshmallows over 30 feet so that you can effectively annoy everyone in your home.
Let your MVP know you have their back when they're out on the field by waving around these personalized big head cutouts. The cutouts are available in sizes ranging from a few inches to a giant 3 foot tall head that is guaranteed to stand out in the crowd.
Challenge anyone in the world to a game of chess - even if they don't have a board themselves - with this intelligent chess board. It allows you to square off against over 200,000 players from 20 different countries or play against the board's A.I.
Kick your Christmas fiesta into high gear by walking in dressed in this beer pong ugly Christmas sweater. It features a festive design where the 6 removable red beer pong cups act as the ornaments on the little Christmas tree.
Play all of your favorite classic arcade games anytime you want with this Atari retro handheld console. It features a nifty vintage design complete with '80s styled wooden panels and comes loaded with 50 built-in games like Pong, Missile Command, and Asteroids.
Enjoy old school arcade gaming on-the-go with the ultra portable NeoGeo mini retro arcade. This pint-sized arcade boasts everything from a joystick and buttons to a 3.5" screen and comes loaded with 40 classic games including Fatal Fury and Metal Slug.
Forget The Tortilla Challenge, if you really want to test your spice threshold then you need to try The Death Nut Challenge! To claim victory you have to chow down on 5 progressively hot extra large Virginia peanuts that are infused with some of the hottest peppers known to man.
Keep your scrimmage going after the field lights go off by playing your game with this light up glow basketball. This eye-catching regulation size basketball is equipped with an embedded LED that makes it give off a vibrant reddish glow.
Celebrate the holidays Griswold style by placing this National Lampoon's Christmas vacation village on display. It depicts iconic and hilarious scenes from the beloved holiday flick such as Clark's electrocution and cousin Eddie emptying the shitter.