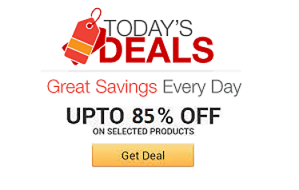 Find the coolest stuff at the lowest prices by browsing Amazon's incredible daily deals! You'll surely save a lot!
A remake of the classic game from the 1960s! Kids control battling robots Red Rocker and Blue Bomber with fast thumb action and try to deliver the blockbuster punch that will knock his block off! Battle it out in the arena, with realistic sounds and jaw-jolting action. Land a punch and don't lose your head to be declared victorious! A classic for over 40 years! It's the game where the original battling robots try to knock each other's blocks off! A Classic for More Than 40 Years First debuted in the 1960s, the Rock 'Em Sock 'Em Robots game has been thrilling kids for decades! This remake returns everyone's favorite robots, Red Rocker and Blue Bomber, to the classic yellow ring, where they'll duke it out until someone loses his head! These tirelessly fighting robots are tough, so kids can enjoy rematch after rematch. The simple but engrossing play is fast, fierce, and — most of all — fun! So go ahead and knock his block off! Kids Control All the Punching, Jabbing Fun Designed for two players, this exciting action game lets each opponent control his robot by operating the corresponding mechanism with his thumbs. The ring requires some simple assembly, and the robots easily fit into grooves on their platforms. Push the right button to deliver a right hook, and push the left to punch with your robot's left arm. You can also shift your robot's position in the ring by moving the controls left and right. Kids affect the intensity of the battle with their thumb speed and expert fighting skills! Realistic Sounds and K.O. Action While they battle, the movements of Red Rocker and Blue Bomber are accompanied by realistic sounds and jaw-jolting action. As the mayhem magnifies, players race to deliver the blockbuster punch that will cause their opponent's spring-loaded head to pop up, signifying the end of the fight. The player who hasn't lost his head wins the game! What's In The Box? Ring comes complete with two thumb-operated mechanisms and two battling robots. Red Rocker and Blue Bomber battle it out in the arena, with realistic sounds and jaw-jolting action.
Send covert messages without them being intercepted by prying eyes by writing them using the invisible ink pen. The specialized ink is designed to work on ...
Blaze up the night skies by playing a radical game with the light up frisbee. This luminescent flying disk whizzes through the air while creating amazing ...
Exercise the mind and body as you try to best your opponent playing on this giant chess set. Made from tough all-weather resin, the board is designed to ...
Keep yourself from spending all your money at once by placing your disposable income in this money maze bank. After inserting the money inside, a locking ...
No other toy gun will kill time quite like the vapor blaster. This handheld blaster fires perfectly formed odorless vapor smoke rings at distances up to ...
Experience what bankruptcy is like in a galaxy far, far away by partaking in a rousing game of Star Wars Monopoly. The pieces come styled like the iconic ...
Get answers to life's biggest questions with a little sass by asking them to the almighty sarcastic magic 8-ball. Upon asking it your burning questions, the ...
Don't let a Waterworld like post-apocalyptic event stop you from getting a game on ping pong going - now you can play this fun game anywhere with the ...