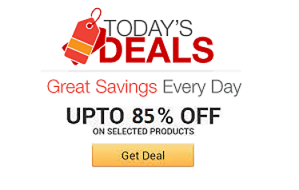 Find the coolest stuff at the lowest prices by browsing Amazon's incredible daily deals! You'll surely save a lot!
Add an interesting spin to poker night by playing with the glow in the dark playing cards. Simply place them under UV lights, and watch as this seemingly ...
Conquer any rough terrain you encounter after assembling this R/C Toyota Land Cruiser kit. Designed for dedicated off-road R/C car enthusiasts, this ...
Make your dream of owning a classic car a reality without plunging yourself into debt with this LEGO Volkswagen Beetle Kit. Modeled after the iconic 1960 ...
This mini air hockey table has a built in fan to give it that authentic air hockey feel. Measuring roughly 4 feet long and 2 feet wide, this air hockey ...
Complete your zombie apocalypse diorama with these disturbing plastic zombie men toys. Inspired by The Walking Dead zombie show and comic book, these Army ...
Bombard the enemy with a hailstorm of water balloons by shooting them from this fearsome handheld launcher. It works just like a slingshot - allowing you to ...
Now you can play with the focal instrument from arguably the greatest game ever made - Zelda: The Ocarina of Time. This ceramic twelve hole musical ocarina ...
Bring the fun out of your serious strategy games partners with the wobble chess set. At first it may seem like another fancy chess board with shiny pieces ...
Transform any tub, sink, or bowl in your home into a calming koi pond with the color changing koi fish toy. These realistic looking koi fish float at the ...