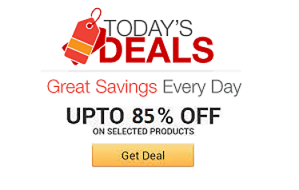 Find the coolest stuff at the lowest prices by browsing Amazon's incredible daily deals! You'll surely save a lot!
Turn game night into an event your friends will actually look forward to by playing Over The Line. In this cross between Pictionary and Charades one team picks a card either containing a outrageous phrase which can either be drawn or acted out.
BooBuddy is the interactive ghost hunting bear that provides a lot more than just snuggles. This cuddly paranormal investigator detects changes in electromagnetic fields, temperature, and vibration to inform you if any spirits may be near by.
Why settle for a dinky car when you can get behind the controls of this R/C airsoft BB firing battle tank. It comes with a 2000mAh NIMH battery and charger, 2.4GHz transmitter, smoke unit, speaker, and fires 6mm airsoft BBs.
Transform any patch of dirt into an interactive playground for Jr. with this ride-on 360-degree excavator digger. It features tracked wheels for easy movement and a fully functional dual action lever so that they can dig, scoop, and move dirt around.
Role play the Doctor's most iconic timey-wimey adventures by building your own TARDIS with this Doctor Who LEGO kit. The kit includes a console room, TARDIS, and four minifigures - the Eleventh Doctor, Clara Oswald, a Weeping Angel, and two Daleks.
Exercise both your mind and body by trying to out maneuver your opponent in a game of giant backyard chess. The set includes 16 black and 16 white massive pieces made of a high-density waterproof and UV protected plastic resistant to staining and fading.
If treasure filled soul snatching adventures are your thing you'll love Boss Monster - the dungeon building card game. You must outbid every other player so that you can build the most enticing dungeon in order to lure unlucky adventurers and steal their souls.
Ensure victory by refilling less than your opponent by using this bazooka water gun instead of a standard Super Soaker. The inventive design features a nozzle that allows you to screw on almost any plastic bottle and fire a stream of water up to 30 feet away.
Use your downtime to hone your deadly warrior skills with this indoor ninja blowgun kit. The kit includes two 30 inch blowguns, 24 soft ammo darts, and a Styrofoam target that you can place anywhere to work on your aim and accuracy at anytime.