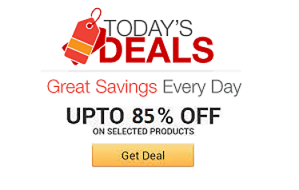 Find the coolest stuff at the lowest prices by browsing Amazon's incredible daily deals! You'll surely save a lot!
Channel the power of the Dark Side to bring light into your home with this Star Wars Darth Vader clapper. When you clap on, Vader says "The Force is strong with this one" and when you clap off he remarks "You underestimate the power of the Dark Side".
If classic board games are your thing, you'll go wild for this Clue 3D luxury edition. Instead of playing on a dinky old 2-dimensional flat surface, this beautifully crafted game board will give you an up close and personal view of each room in the luxurious manor.
Add a little excitement and wonder to your dull muggle world by constructing this LEGO Hogwarts castle. This massive 6000+ piece set features a Great Hall, Defence Against The Dark Arts classroom, along with 27 microfigures that include Harry, Ron, and Hermoine.
Awaken your inner Jedi with this Star Wars augmented reality game. This captivating and immersive game trains you on how to become a fearless Jedi and expertly wield your lightsaber so that you can battle foes like Kylo Ren and the sinister Darth Vader.
Light up your child's face with joy and awe when you surprise her with her very own hatching baby creature. Each over-sized egg comes with a super fluffy hatchling whose identity is kept a mystery until the moment it hatches.
Upgrade your life by giving your game room a major face lift with this Pac-Man arcade and drink cooler machine. The top half of the machine is a fully functional Pac-Man Pixel Bash arcade game while the lower half houses a fully functional mini fridge.
From the creators of Stretch Armstrong comes a fun new toy - Truth Stretch Trump! Number 45 comes dressed in his presidential blue suit and embarrassingly long red tie, sports a radiant orange complexion, and can stretch up to 4 feet from head to toe.
Put your craft beer connoisseur cred to the ultimate test by playing Unlabeled - the blind beer tasting board game. Players taste the same beer, evaluate the game board, and attempt to correctly identify its characteristics, general category, or specific beer type.
Monopoly for Millennials is the depressingly accurate new version of the classic board game. Instead of collecting cash and properties, you rack up experience points as you go around the board visiting new places - because you'll never be able to afford a house anyway.