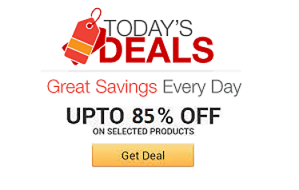 Find the coolest stuff at the lowest prices by browsing Amazon's incredible daily deals! You'll surely save a lot!
Perfect your percussion technique without receiving noise complaints from the neighbors by using this air drumming percussion instrument. It's compatible with both Windows and Apple operating systems and is portable enough to take virtually anywhere.
Paper airplanes are so twentieth century. Step into the future of flight with this smartphone app controlled airplane. This compact carbon fiber and EPP foam airplane can be easily controlled using your smartphone and features a flight time of 12 minutes per charge.
Take mobile gaming to the next level with this trigger! Free up your fingers from the screen for a more comfortable and accurate gaming experience. No battery, fits any phone or tablet with a width of 5.5mm - 12mm. 3D printed, lightweight, thin design
Put your Golden Girls knowledge to the ultimate test by playing Golden Girls Trivial Pursuit! The game comes with 600 questions that are based over the show's seven seasons and broken into categories like "the ladies", "who said it", and "men of the night".
The Nintendo Poke Ball Plus is going to make your Pokemon gaming experience feel more authentic than ever! It's designed to work like a Joy-Con controller with the upcoming Nintendo Switch games - allowing you to easily move, battle, and navigate menus.
MacGyver: The Escape Room Game will put your brain muscles to the ultimate test as you try to foil Murdoc's devious plans and save the day! In this multi-scenario game you'll get to choose from one of five heart-racing individual missions.
Commute more efficiently and effortlessly than ever before by hopping on one of these mini electric Boosted boards. Available in two models - the Mini S & Mini x - these reasonably priced boards deliver powerful acceleration, concise braking, and a smooth ride.
Experience the thrill of a virtual war zone in your own home using these FPS augmented reality battle robots. These pint-sized warriors are equipped with a visual recognition system, auto-targeting, and groundbreaking A.I. for incredible solo or team battles.
Settle disputes like a modern gentleman by sending these smartphone controlled battle bots to duel it out for you. These pint-sized high-tech Bluetooth enabled warriors are easy to operate and can be controlled with both Android and iOS devices.