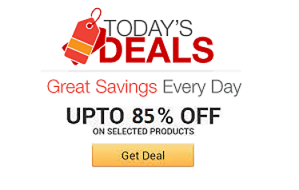 Find the coolest stuff at the lowest prices by browsing Amazon's incredible daily deals! You'll surely save a lot!
Recreate some of the world's most iconic masterpieces with your own two hands with this awesome Paint By Sticker book. It comes with everything you'll need to create twelve full color paintings like the Mona Lisa, The Birth of Venus, and Girl with a Pearl Earring.
Get your hands on 007's iconic ride without going broke by putting together this LEGO James Bond Aston Martin. This 1295 piece set depicts Bond's classic Aston Martin DB5 with extraordinary detail - like a passenger ejector seat and a rear view bulletproof window.
Ensure your guests remain good and drunk during your next pool party by hosting a beer pong tournament on this floating table. Made from a lightweight and durable tear resistant foam, it's designed to fit standard 16 oz party cups and rolls up for easy transport.
Get serious about your thumb wrestling career by stepping up to the big leagues with this pro thumb wrestling arena. This fun-sized ring will make your next thumb battle look like a high-stakes pro-wrestling match - just like on TV!
With this Hot Wheels GoPro mount car you'll be able to get a first person view of the insane ride your little car takes when you place it on the track. It allows you to safely and securely mount your GoPro Hero 5 Session camera onto the car to capture incredible footage.
The day has finally come when pigs fly - kind of! Although this portly little battery operated piggy can't actually fly on his own, it comes with a ceiling mount so that you hang him and watch him hover in circles as he flaps his little wings up and down.
Get the young whipper snappers interested in science by having them build their very own mini musical Tesla coil. The kit comes with everything needed to easily build a compact singing Tesla coil that emits a charming melody as the sparks fly.
If you're struggling with what to get the tinkerer in your life for their upcoming birthday, feast your eyes on this unique Mini Strandbeest model kit. They'll be able to construct a cool little moving kinetic sculpture that is powered solely by the wind.
Ensure your kid's day is filled with fun and adventure by placing him behind the wheel of this Jurassic Park ride-on Jeep. It comfortably seats 2, tops out at 5 miles per hour, and comes fitted with onboard speakers that emit cool dinosaur roaring sound effects.