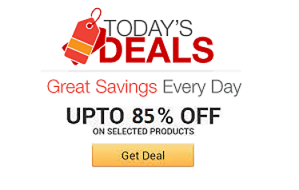 Find the coolest stuff at the lowest prices by browsing Amazon's incredible daily deals! You'll surely save a lot!
The brilliant minds that brought you finger hands have outdone themselves with their newest creation - mini finger hands for finger hands. They're utterly useless, highly entertaining, and come in sets of five mini finger hands in assorted skin tones.
Learn everything you ever wanted to know about your favorite game by cracking open The Legend of Zelda encyclopedia. This riveting compendium examines everything from enemies and items to maps and main characters in addition to concept art and more!
Add a retro touch to any room by lighting it up with the Rubik's Cube lamp. This colorful Rubik's Cube provides continuous illumination for up to two hours and functions as both a playable toy when in use and a room accent when not.
In the Ricks Must Be Crazy Multiverse game you must introduce an astonishing power-making technology to the worlds you create and siphon as much of the power for yourself before the other players get to it first. You can take the role of either Rick, Morty, Zeep, or Kyle.
Cruise around town without feeling encumbered by a bulky deck by riding atop this fold-up skateboard. This unique longboard features a convenient ergonomic design that lets you easily fold the board in half, so you can take it virtually anywhere!
Put yourself right in the driver's seat of your favorite racing games with help from the Nintendo Labo vehicle kit. Using this fun DIY kit you'll be able to make cardboard creations that can actually be used with your Nintendo Switch.
Give your ride a cool pre-historic touch by attaching this T-Rex cover to your trailer hitch. This 8 inch long dino head is crafted from fabricated 12 gauge steel and is powder coated for maximum durability - making this a great gift for any dinosaur enthusiast.
Get the party started with this dancing bear speaker! As soon as you flip the small switch on his left paw, this cute little party animal comes alive and begins busting a move to your favorite tunes - making it a must have for any house party.
Make saving more appealing than ever by storing your loose change inside this coin stealing piggy bank. Each time you place a coin over the designated space, an adorable little white kitty pops out of the box and grabs your coin using his small paw.