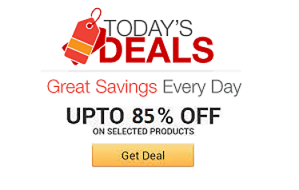 Find the coolest stuff at the lowest prices by browsing Amazon's incredible daily deals! You'll surely save a lot!
Put your dearest friends in the most awkward and embarrassing situations by playing the Social Sabotage card game. Players combine both the black and yellow cards to come up with insane dares that the other players must then perform and post onto social media.
Monopoly: Cheater's Edition is the first ever version to encourage and reward you for your dishonest ways. It comes with 15 cheat cards that command players to carry out shady tactics like stealing directly from the bank or moving someone else's token.
Transform any pair of shoes into some hot skates with these motorized electric heel wheels. They're equipped with proprietary 50mm urethane wheels, sealed bearings, and will emit an eye-catching spray of sparks as you effortlessly glide along the pavement.
Fuel your little thrill-seeker's imagination during playtime by surprising her with this Tomb Raider Lara Croft Barbie doll. This Lara Croft Barbie sports her iconic outfit along with accessories like a map, journal, and axe - everything she'll need on her next adventure.
Unlock the secrets of the enigmatic realm of the Upside Down by gathering a few brave souls around this Stranger Things Ouija board. Based on the hit Netflix show, the game board features the iconic twinkly Christmas lights strung up above each letter.
Help manage your daily stress levels by taking out your anger and frustration on this fluffy slime stress relief toy. This colorful non-toxic and non-sticky sludge can be stretched, pulled, folded, rolled, and smashed to your heart's content.
Bring the virtual world to life like never before by putting on this Oculus Go standalone VR headset. Available in either 32 or 64 GB models, this truly tether-free headset features a 2,560 x 1,440 pixel high-res fast-switch LCD screen and requires no PC or smartphone.
When memes become reality - get your Nut! The Nut Button is the official blue button from the popular nut meme. It produces a robotic "NUT" sound when pressed. It is the perfect gift for the one who has it all, or even just your own bedside toy.
Give your feline friend endless housing options by building him the perfect home with this modular cat house. Each module comes with built-in velcro straps that allow you to easily attach them to one another to create structures like a skyscraper, a castle, or a cube.