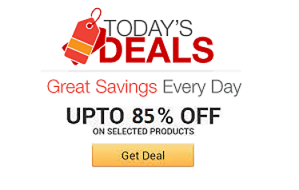 Find the coolest stuff at the lowest prices by browsing Amazon's incredible daily deals! You'll surely save a lot!
Get up close and personal to the car of your dreams by assembling this LEGO Lamborghini Gallardo. This pint sized Lambo captures the essence of the iconic ...
Terrorize the good citizens of LEGO Town with the full brunt of the Empire by commissioning the construction of the LEGO Death Star. Once built, this ...
LEGOs aren't just for kids - this LEGO Taj Mahal set contains just under six thousand pieces and is not for inexperienced LEGO builders. This highly ...
Give your fellow drivers a good scare as you prank them using fake parking tickets. Printed on a thick, durable cardboard, each parking ticket is detailed ...
This voice remote controlled R2-D2 is the droid you are looking for! This R2-D2 bot responds to over 40 commands, along with having his own little quirks ...
Make sure to bring the jumbo poker chips to game night when you and your friends play using the giant playing cards. This enormous deck contains all the ...
For the first time in the history of man, you can actually give a flying fuck! While not exactly the most precise of helicopters, the remote control flying ...
Make your game room just as fun as an arcade with the addition of the full size air hockey table. This fully loaded table stands on heavy duty ABS legs and ...
Blow your friends away - literally - as you take aim and fire this incredibly entertaining air bazooka at them. This harmless weaponry features a high tech ...