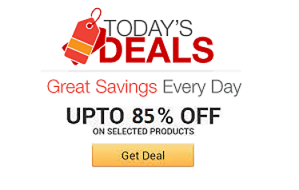 Find the coolest stuff at the lowest prices by browsing Amazon's incredible daily deals! You'll surely save a lot!
Take sand art to mind-blowing levels as you light up the night with glow in the dark sand. The glowing sand comes in four different colors that help you ...
Organize a quick game of table tennis wherever you go with the portable ping pong set. Apart from making the office a more bearable place to be, the set ...
When it comes to toys, size matters. This summer you won't find a better time than when playing with the giant beach ball. This ginormous beach ball stands ...
Bring arcade style fun into your very own backyard during the summer time with the slip and slide hockey rink. Two players get on their knees and go head to ...
It'll become impossible to get your kids out of the water once you introduce them to the spinning torpedo pool toy. At 10 inches long, the torpedo features ...
Ensure that you'll definitely go to Hell when you die by playing the Cards Against Humanity card game. The rules of the game are simple, just use your ...
Watch your productivity decrease as the super precision gyroscope hypnotizes you with its gravity defying splendor. The gyroscope is crafted to the highest ...
Now you can combine your love of arts and crafts with zombies with this customizable zombie creation kit. Included in this zombie action figure kit are ...
Make playtime more interactive than ever for your little youngsters with the 3D play rug. This lively rug sprawls over an area of 59? x 40? and displays a ...