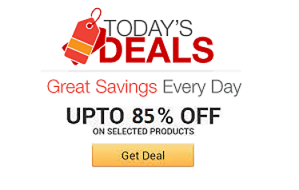 Find the coolest stuff at the lowest prices by browsing Amazon's incredible daily deals! You'll surely save a lot!
You can't start a revolution without having an awesome outfit for your comrades. With the Guy Fawkes mask you can strike fear into The Machine and show off ...
All puny humans will bow down to the awesome power of your offspring once they put on the Incredible Hulk smash hands. Both monstrous fists are clenched for ...
With the folding Ray-Ban sunglasses you'll be able to stay stylish and protected from the blinding sun without over-encumbering your purse or pockets. It's ...
The folding Wayfarer glasses make it remarkably easy to store your shades when they're not being worn. The classic Wayfarer plastic frame features ...
Carry your things around with this cool Star Wars Chewbacca plush backpack, not only will you look like a stud, but you will also be quite warm while ...
Help keep your home tidy in between cleanings by wearing these floor cleaning slippers. The soles of these super comfy slippers are removable for easy clean ...
Avoid first degree burns in the kitchen by using the built-in oven gloves attached to this clever apron. Apart from protecting your clothes against stains ...
If you have a habit of writing on your hand, check out the to do list temporary tattoo, the washable tattoo that allows you to write out your checklist on ...
Stay liquored up wherever you go with these flask sandals that let you store alcohol by your feet. Now you can keep booze on you while at the beach or pool ...