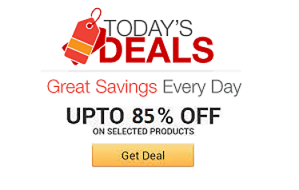 Find the coolest stuff at the lowest prices by browsing Amazon's incredible daily deals! You'll surely save a lot!
Complement your stylish outfit like any fashion forward gamer would using this Nintendo Power Glove. It comes meticulously decorated with all the bells and whistles of the original and features built-in LEDs that actually light up upon wearing it.
This zippered workout belt keeps all your belongings right by your side without creating bulk or hindering performance while you're exercising. It's made from moisture wicking Lycra and comes with four spacious pockets ideal for storing your phone, cash, and keys.
Look downright intimidating when you show up to see your favorite hardcore band wearing this death metal rainbow shirt. After all, nothing says you're a soulless spawn of Satan quite like a dainty rainbow over a sea of pastel pink.
Fulfill your dream of becoming a mythical woodland creature with help from this creepy unicorn mask. It's so realistically styled that from the moment you put it on, you and everyone lucky enough to come into your presence will undoubtedly be touched by its magic.
Keep thirsty blood-suckers from turning you into a tasty buffet by heading outdoors dressed in this insect repellent clothing. These machine washable garments are treated with insect repellent technology that protects against bugs like ticks, ants, and mosquitoes.
Halloween is sure to be a wild ride when you and your closest chums dress up in roller coaster costumes. Once you and a few friends are safely strapped into your costumes, you'll create the illusion that you're aboard a thrilling amusement park ride.
Give your tired eyes the royal treatment every night by slipping into this hot and cold therapy sleeping beauty sleeping mask. It's made from an ultra soft fabric that won't leave lines or marks on your skin and comes with a gel pad that you can either heat or freeze.
Cover your kitty with a pretty little pussy when you put on one of these 3D animal panties. These cotton and polyester undies provide a comfy fit and are styled to look like adorable little critters - complete with pop-up ears.
Wow onlookers with a technicolor light show on your special day by walking down the aisle in this luminous fiber optic wedding dress. This visually captivating dress is woven from a high tech fiber optic fabric that can light up in four beautiful and vibrant hues.