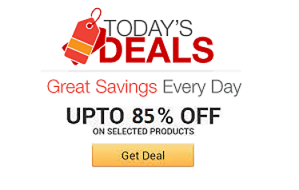 Find the coolest stuff at the lowest prices by browsing Amazon's incredible daily deals! You'll surely save a lot!
If you have trouble waking up in the morning, this mobile alarm clock with wheels is the perfect solution. When the alarm goes off, the mobile alarm clock ...
These novelty guitar ice cube molds are a fun and unique way to keep your drinks cold. The guitar ice cube mold is made from food grade silicone, and looks ...
No bachelor pad would be complete without an over the top item like an aquarium coffee table. Both stylish and functional, this coffee table aquarium comes ...
Stay warm and toasty while travelling through bitter cold weather by wrapping yourself up in the electric heated travel blanket. The blanket plugs easily ...
Easily rid your home of creepy arachnids without using deadly force with this harm-free spider catcher. It efficiently allows you to trap spiders and other ...
Relax at the beach without carrying around a bulky lounger chair with these inflatable back pillows. Perfect for the outdoors where seating just isn't up to ...
Cry yourself to sleep in loving embrace of the full body pillow. It provides your tired back and legs with the physical support you need while providing ...
Throw away those cheap and uncomfortable ear buds that you got for free and listen to your music instead with these giant ear bud speakers! These novelty ...
The shower shaving foot rest is the leg-shaving woman's truest companion in the shower. For those women who like a clean shaven leg without the fuss of ...