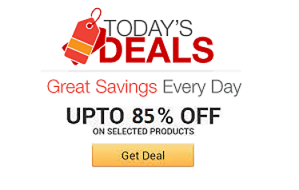 Find the coolest stuff at the lowest prices by browsing Amazon's incredible daily deals! You'll surely save a lot!
Crack your beer open right in the kitchen. The simple, sleek bottle opener fridge magnet is the perfect accessory for any fridge that holds beer. Never lose ...
With the netted cocooon hammock you can hang out in your backyard or in the wilderness without having mosquitoes invade your quiet personal space. The ...
Send covert messages without them being intercepted by prying eyes by writing them using the invisible ink pen. The specialized ink is designed to work on ...
The great outdoors will be no match for you with the tactical flashlight knife at your side. It features a 3? stainless steel blade with serrated edge and a ...
This pocket size toolkit is as thin as a credit card so it can easily fit in your wallet. Aside from being as thin as a credit card, this toolkit includes a ...
Glass bottom boat tours just got knocked down a notch thanks to these amazing clear canoes that allow you to view the marine life below you like never ...
Experience an unparalleled view of Neptune's vast kingdom by exploring it in the foldable clear kayak. The military grade urethane skin, combined with the ...
Tackle any minor home improvement projects that come your way by carrying the stainless steel multi-tool. Forged entirely out of steel, it packs a whopping ...
Get a unique glimpse of King Neptune's vast underwater realm by exploring it on the see-through kayak. Thanks to the kayak's sturdy and transparent ...