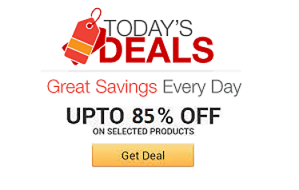 Find the coolest stuff at the lowest prices by browsing Amazon's incredible daily deals! You'll surely save a lot!
Sleep without fear of insects crawling into your orifices at night by camping in the Nube hammock shelter. The innovative design allows you to utilize surrounding trees to create a suspended space to keep you safe and dry while outdoors.
Turn your vehicle into a safe and cozy camper with the pickup truck bed tent. This portable shelter fits most pickup truck beds and comes with sealed windows along with features like an extra large entrance to make your stay in the outdoors as pleasant as possible.
Turn your backyard into the coolest place in the entire neighborhood by blowing up the Kahuna Mega Blast inflatable water park. It boasts two continuous water blasting cannons and an ample sliding surface that is big enough for several kids to slide down at once.
Fire up the good times as you create a cozy environment with the campfire in a can. Whether the night calls for a propane lit fire or a traditional wood burning flame, this sturdy and portable can is ready to meet the challenge!
Snuggling with your sweetie or furry friend in the great outdoors just got a lot more comfortable thanks to the two person camp chair. This rugged love seat features a sturdy steel frame, a padded back, and sports two cup holders.
Harnessing the power of the sun is easier than ever with these Goal Zero solar panels. Crafted from strong tempered glass, these monocrystalline solar panels are lightweight, weatherproof, and come with a handy kickstand so that you can place them at the ideal angle.
Glide through the skies like a majestic eagle with the backpack paramotor aircraft. This carbon fiber and aluminum paramotor features a reliable compact design that really comes in handy when you want to give your old water jet pack a rest.
Kick your backyard warfare up a notch by adding this foam grenade soft bullet launcher to your arsenal. This lightweight and portable weapon will allow you to launch small NERF-like bombs up to a distance of twenty feet away.
With the 12-person 3-room camping tent you'll be able to enjoy quality outdoor time with the family without feeling like you're constantly on top of each other. It sets up in just under 2 minutes and features a well distributed layout that allows for maximum privacy.