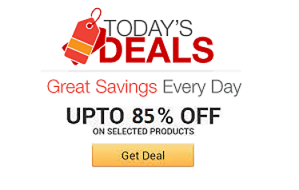 Find the coolest stuff at the lowest prices by browsing Amazon's incredible daily deals! You'll surely save a lot!
Ensure your main course is as savory, soft, and juicy as ever by prepping it with this needle blade meat tenderizer. This 48-blade tenderizer forms tiny channels within the meat in order to break down the connective tissues which make meat tough and chewy.
Transform your beverage into a pint-size thirst quenching Wookie by placing your drink inside this Chewbacca can koozie. Made using premium faux Wookie fur, the koozie comes accented with Chewie's iconic belt and is designed to fit most 12 ounce cans.
Show all the party people who the fastest gun in town is by serving up a round of shots with this whiskey decanter gun. This must-have party accessory comes with 2 pistol decanters along with 8 shot glasses which you conveniently carry using a belt holster.
The unbreakable and reusable juice box is a heaven-sent for parents who are constantly cleaning up spills. Made from 100% BPA-free plastic, this scratch-resistant 10-ounce container features an easy-to-open and close design that minimizes drips and spills.
Get a theater-quality snack sesh going on while you binge-watch from the comfort of home by curling up with one of these movie night candy buckets. This movie night must-have comes stuffed all sorts of classic sweet and salty snacks guaranteed to please your palate.
Munching on your deep fried potato sticks while you're driving just got a whole lot easier with this car french fry holder. This multi-functional car accessory will fit perfectly in your car's cup holder so that you can easily snack without making a mess.
Enjoy the chips without the mess by using these finger covers for eating chips. These handy dishwasher safe covers are crafted from food-grade silicone and are designed to fit over your primary chip-eat-fingers - your thumb, middle, and index fingers.
Expand your culinary horizons with a little treat from the sea by snacking on a bit of gourmet tinned octopus. This small low-calorie Portuguese octopus is high in B12 and comes marinated in a mix of garlic and olive oil to enhance its flavor profile.
Make drinks for appealing for the kiddos with these reusable licorice straws. These colorful and tasty-looking straws are made from a tough food-grade silicone that's durable, flexible, and even heat resistant which makes them perfect for both hot and cold beverages.