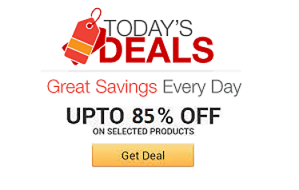 Find the coolest stuff at the lowest prices by browsing Amazon's incredible daily deals! You'll surely save a lot!
Unleash a barrage of mayhem on your enemy by walking into the battlefield armed with this NERF N-Strike Elite Infinus! This fully-motorized blaster comes with an ample drum that automatically loads darts into the gun for rapid fire action!
Make your little dino lover feel like a real life paleontologist with these Dig It Up dinosaur eggs! Simply soak each 3-inch clay egg in water and then carefully chisel away the shell to unearth the cool little surprise inside.
Gain an instant advantage over your opponents by walking into battle strapped with the NERF Rival Prometheus MxVII-20K blaster. It boasts an Advanced Acceleration System that lets you shoot up to 8 rounds per second!
Be the envy of all your neighbors by having the coolest outdoor setup by placing this inflatable Fortnite battle bus in your frontyard. It comes with a built-in pump for maximum convenience and measures eighteen feet long by almost eighteen feet high.
Kick your backyard warfare up a notch by adding this foam grenade soft bullet launcher to your arsenal. This lightweight and portable weapon will allow you to launch small NERF-like bombs up to a distance of twenty feet away.
Game like it's the late '90s all over again with the Sony PlayStation classic console! While it's modeled after the original PlayStation, this updated model is actually 45% smaller and comes with classic 20 built-in games like Tekken 3 and Final Fantasy VII.
Keep your home - and the universe - free from evil by building your very own Voltron using this awesome LEGO set. With this 2,321 piece set you'll be able to construct the five mighty lions that join forces to form an imposing 15 inch tall LEGO Votron.
Recreate one of the world's most iconic architectural wonders by taking on this LEGO creator Taj Mahal set. You'll be able to marvel at the structural beauty of this iconic landmark up close as you painstakingly put together its almost 6,000 pieces!
Make family game night more appealing and fun for your Gen-Z offspring with Monopoly: Fortnite edition. With over 27 different character pieces to choose from, each player will get to build walls, pick up health packs, and damage opponents until only one victor remains.