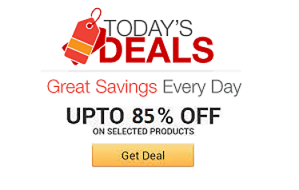 Find the coolest stuff at the lowest prices by browsing Amazon's incredible daily deals! You'll surely save a lot!
Keep a watchful eye over your property 365 days a year using this weatherproof wire-free security camera. This Alexa-compatible device features end-to-end video encryption along with unrivaled HD quality resolution and a sturdy casing ideal for harsh weather conditions.
Ensure your drinks and snacks remain frosty the entire day by stuffing them inside the Pelican Elite wheeled cooler. It boasts corrosion resistant stainless steel hardware, heavy duty wheels, and features an insulation system designed to retain ice for up to 10 days.
Protect your Zippo's smooth finish when you venture outdoors by slipping it inside this lighter armor. It features a sturdy heat-resistant reinforced polymer exterior and an O-ring seal that minimizes evaporation while keeping water out.
Take your artistic creations from the 2-dimensional world to the 3-dimensional world with the 3Doodler 3D printing pen. This fun and easy to use pen comes with 75 colored cartridges that rapidly cool after being shot out - allowing you to draw in 3D.
Beat the heat on hot summer days by keeping yourself nice and cool using this portable air cooler from Culer. It features a simple design that requires no pads to clean, replace or treat with chemicals, and can provide up to 10 hours of cooling with just 1 gallon of water.
Ensure that your possessions remain completely dry by packing them inside one of these airtight and waterproof submersible bags. They feature a thickskin shell made of high-density nylon in addition to a Hydrolok zipper to guarantee that water stays out.
Cook your premium slab of meat to perfection every time with this digital steak thermometer. This grill and oven friendly thermometer can accommodate up to 4 probes and simultaneously display their temperatures so that you can monitor all your steaks at once.
Minimize the risk of serious injury when you're hanging something over your home's staircase with the PiVit ladder leveling tool. It's fully adjustable and sports extra grippy feet ideal for smooth surfaces in addition to a large non-slip surface so your ladder remains in place.
BoxLock is the smart padlock that only unlocks when the correct barcode is scanned - so your packages can safely get dropped off, even if you're not home. It features a simple push button scan, up to a 60 day battery life, and sports a sturdy weatherproof case.